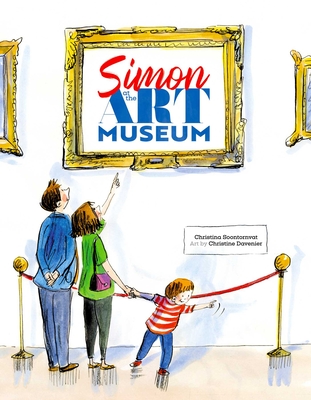 Simon at the Art Museum
Hardcover

* Individual store prices may vary.
Description
A little boy visits an art museum for the first time in this fun, sweet picture book about first experiences and seeing things from new perspectives.

Simon is having a great time at the museum with his parents. There are slippery, slidey floors! Pigeons flying around the reflecting pool! And cheesecake in the café! But they're not really here for any of that. No, Simon has to look at art.

And more art.

So. Much. Art.

There's so much art that soon Simon needs to take a break and finds somewhere to sit. From his bench, he begins to notice how many different people are visiting the museum and the many different ways they react to the art they see. Some people are alone. Some are in groups. Some people smile. Some shake their heads. Some even shed a tear.

And Simon is right in the center of it, watching until he's inspired to give all the art another try. By the end of the day, he may even find a piece that can rival a slice of cheesecake!
Praise For Simon at the Art Museum…
"The story provides a lighthearted way to discuss perspective and would serve as effective preparation for a family or school outing."
— Booklist

"The story is simply and realistically told from Simon's perspective.....The illustrations are done in ink outlines with watercolor washes which perfectly compliment the text and give the book an old-fashioned feel. Many children will enjoy reading about Simon because they will find him relatable and recognize similar experiences from their own lives."
— School Library Connection

* "This sweet and familiar story will resonate with anyone who has ever felt as Simon does....A perfect introductory text to what is and is not appropriate at the museum, this tale also delivers a generous lesson about how a single piece of art can turn an entire experience around."
— School Library Journal - starred review

"This is a creative take on the oft-told story of kid meets art museum, and Simon's grappling with a novel setting and challenging constraints is depicted with humorous sympathy. ...Davenier's art, with its usual playfully scrawled lines and taste for contrasting yet sophisticated vivid colors, effectively balances squirmy Simon with the cathedral air of a great museum hall....An imaginative prep for a museum visit or just a way to open up a new conversation about art."
— Bulletin of the Center for Children's Books
Atheneum Books for Young Readers, 9781534437524, 40pp.
Publication Date: June 9, 2020
About the Author
Christina Soontornvat is the author of the middle grade novel A Wish in the Dark and The Blunders: A Counting Catastrophe. She is passionate about STEAM learning, which stands for science, technology, engineering, art, and math. This story was inspired by a trip with her young daughters to her favorite art museum in Fort Worth, Texas (which has excellent cheesecake). You can visit Christina online at Soontornvat.com.

Christine Davenier's favorite dessert is profiterole au chocolat. She is the illustrator of many books for children including the Iris and Walter series by Elissa Haden Guest and The First Thing My Mama Told Me by Susan Marie Swanson, for which Christine received a New York Times Book Review Best Illustrated Children's Book of the Year Award. She lives in Paris.