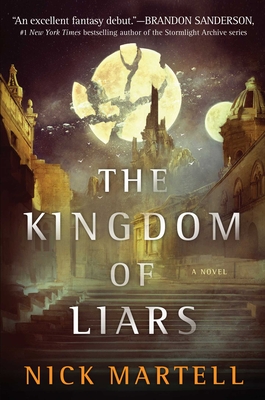 The Kingdom of Liars
A Novel (The Legacy of the Mercenary King #1)
Hardcover

* Individual store prices may vary.
Other Editions of This Title:
Digital Audiobook (5/4/2020)
Paperback (1/19/2021)
Description
In this brilliant debut fantasy, a story of secrets, rebellion, and murder are shattering the Hollows, where magic costs memory to use, and only the son of the kingdom's despised traitor holds the truth.

Michael is branded a traitor as a child because of the murder of the king's nine-year-old son, by his father David Kingman. Ten years later on Michael lives a hardscrabble life, with his sister Gwen, performing crimes with his friends against minor royals in a weak attempt at striking back at the world that rejects him and his family.

In a world where memory is the coin that pays for magic, Michael knows something is there in the hot white emptiness of his mind. So when the opportunity arrives to get folded back into court, via the most politically dangerous member of the kingdom's royal council, Michael takes it, desperate to find a way back to his past. He discovers a royal family that is spiraling into a self-serving dictatorship as gun-wielding rebels clash against magically trained militia.

What the truth holds is a set of shocking revelations that will completely change the Hollows, if Michael and his friends and family can survive long enough to see it.
Praise For The Kingdom of Liars: A Novel (The Legacy of the Mercenary King #1)…
"An excellent fantasy debut, with engaging worldbuilding and a good mix between action and character. I thoroughly enjoyed the novel, and look forward to following Nick's sure-to-be lengthy writing career."

—Brandon Sanderson, #1 New York Times best-selling author of The Stormlight Archive series

"A symphony of loyalty, greed, family, and betrayal set in an innovative culture!"

—Tamora Pierce, #1 New York Times bestselling author of Tempests and Slaughter

"With a smartly plotted story, great world-building, flawed but fascinating characters and plenty of mystery, The Kingdom of Liars is a terrific debut."

—James Islington, author of The Shadow of What Was Lost

"A richly rewarding fantasy that seethes with mysteries, fuzed with a mindscrew of a magic system. This, dear readers, is the good stuff."

—Jeremy Szal, author of Stormblood

"Nick Martell's debut The Kingdom of Liars lives up to its name, with so many truths and lies interwoven that nothing is as it seems and surprises lurk across every turn of the page. Michael's tale is nothing, if not thrilling."

—Ryan Van Loan, author of The Sin in the Steel

"An impressive fantasy debut that creates a solid foundation for (hopefully) a much larger narrative to come…"
— Kirkus Reviews

"This smart, briskly told high fantasy entertains all the way until the unexpected end."
— Publishers Weekly
Gallery / Saga Press, 9781534437784, 608pp.
Publication Date: June 23, 2020
About the Author
Nick Martell was born in Ontario, Canada, before moving to the United States at age seven. He started writing novels regularly in fifth grade, and his debut novel, The Kingdom of Liars, sold when he was twenty-three years old. Find Nick on Twitter, @MacMartell or at NickMartell.com.