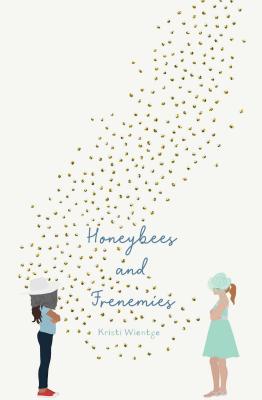 Honeybees and Frenemies (Hardcover)
Simon & Schuster Books for Young Readers, 9781534438156, 256pp.
Publication Date: June 4, 2019
Other Editions of This Title:
Paperback (6/30/2020)
* Individual store prices may vary.
Description
Twelve-year-old Flor faces a bittersweet summer with a pageant, a frenemy, and a hive full of honey.

It's the summer before eighth grade and Flor is stuck at home and working at her family's mattress store, while her best friend goes off to band camp (probably to make new friends). It becomes even worse when she's asked to compete in the local honey pageant. This means Flor has to spend the summer practicing her talent (recorder) and volunteering (helping a recluse bee-keeper) with Candice, her former friend who's still bitter about losing the pageant crown to Flor when they were in second grade. And she can't say no.

Then there's the possibility that Flor and her family are leaving to move in with her mom's family in New Jersey. And with how much her mom and dad have been fighting lately, is it possible that her dad may not join them? Flor can't let that happen. She has a lot of work to do.
About the Author
Kristi Wientge is originally from Ohio where she grew up writing stories about animals and, her favorite, a jet-setting mouse. After studying to become a teacher for children with special needs, she spent several years exploring the world from China to England, teaching her students everything from English to how to flip their eyelids inside out. She's spent twelve years raising her family in her husband's home country of Singapore, where she spends her days ferrying her four kids to school and taking Punjabi and music lessons. With the help of her mother-in-law, she can now make a mean curry and a super-speedy saag. She is the author of Karma Khullar's Mustache and Honeybees and Frenemies. Visit her online at KristiWientge.com.
Praise For Honeybees and Frenemies…
"Wientge has created spirted, realistic characters that readers will root for and identify with. . . .Readers will enjoy this satisfying tale while learning about bees and complicated friendships."
— School Library Journal

"Wientge captures the essence of middle-grade friendships, as well as changing family dynamics, in this honey-sweet summer read."
— Booklist Online Exlcusive

"A sweet and satisfying read about friendship, sisterhood, and change."
— Kirkus Reviews

"Flor's struggles with the complexities of friendship and family are realistic and relatable in this engaging coming-of-age journey."
— Publishers Weekly