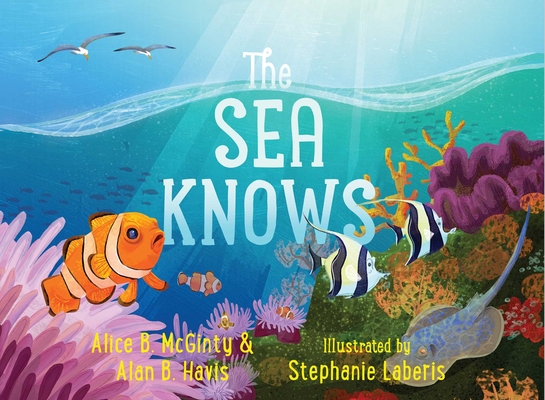 The Sea Knows
Hardcover

* Individual store prices may vary.
Description
Dive in and explore the wonders of the ocean and its inhabitants in this lyrical, fact-filled ode to the sea! This beautifully illustrated picture book features extensive nonfiction backmatter for further exploration.

We are young. The sea is old. The sea has secrets to unfold. The sea knows.

In this playful, rhyming celebration of the marine world, readers can explore all of the wondrous things the sea knows. It knows huge whales and small krill; it knows short crabs and tall giant kelp; it knows brightly colored starfish in shallow pools; and in the inky depths it knows the alluring jewel of an anglerfish's glowing lure.

Discover all of the strange and magnificent underwater creatures in this accessible tribute to the power and mystery of the ocean.
Praise For The Sea Knows…
Dynamic, colorful, semirealistic illustrations accompany....the evocative text....The book has alluring illustrations and well-researched, interesting, and age-appropriate information....A...captivating introduction to the ocean habitat.
— Kirkus Reviews

What does the sea know? Quite a bit, according to this well-crafted picture book. The rhythmic verse text begins with a series of opposites....The text gradually moves away from contrasts and toward concepts with shared properties. Finally, a sequence of dynamic events builds up to a dramatic storm before resolving....Full of movement, grace, and intriguing details, the digital artwork illustrates the text beautifully. An informative appended section elaborates on sea creatures and phenomena mentioned in the verse. The writing flows well, making this picture book a pleasure to read aloud and a natural for classroom units on the sea.
— Booklist

Take a tour of the underwater world in this visual introduction to the sea. Readers will be swept away by a colorful school of fish and will have a front-row seat as a blue whale scoops up a mouthful of krill. McGinty introduces a variety of ecosystems and plant life, as well as many fascinating creatures. The most effective feature of this book is the digital illustrations that showcase the variety and complexity of ocean life. Through careful use of color, the author and illustrator spotlight a world that sometimes appears peaceful and small, and at other times seems volatile and untamed. The pages will be turned with ease, following the rhythm of tightly crafted couplets....A solid selection for nature/science-themed storytime or as a springboard for future investigation.–Louie Lauer, Jefferson Elementary School, Fargo, ND
— School Library Journal
Simon & Schuster/Paula Wiseman Books, 9781534438224, 48pp.
Publication Date: May 5, 2020
About the Author
Alice B. McGinty often stops to look, listen, and wonder, which has led her to write over fifty fiction and nonfiction children's books that capture the truths and mysteries of life and nature. Her books include Pancakes to Parathas: Breakfast Around the World, The Girl Who Named Pluto: The Story of Venetia Burney, The Sea Knows, and the award-winning picture book biography, Gandhi: A March to the Sea. Alice lives in Champaign, Illinois, and spends her time seeking wonders, always looking for inspiration for her next books.

Alan B. Havis has been wordsmithing as an attorney for thirty-four years and has been creating in a variety of art forms for as long as he can remember. One day, while he and Alice were walking on the beach in Negril, Jamaica, they began to talk about how awe inspiring the sea was and how much we don't know about the sea's secrets. Alan responded, "Ah, but the sea knows," which formed the genesis of The Sea Knows, which is his debut book. Applying his writing skills and creative nature, Alan enjoyed combining his talents with Alice's and creating The Sea Knows. Alan lives in a suburb of Detroit, Michigan, and now spends his time dreaming and writing.

Stephanie Laberis is a freelance illustrator and character designer for animation. Originally from New England, she now lives in Northern California with her wonderful partner, a couple of felines, and a handful of rodents. Her love for art is rivaled only by her love for animals, and she spends her spare time as a volunteer wildlife rehabber. She loves painting, needle felting, and losing herself in a good video game.
or
Not Currently Available for Direct Purchase