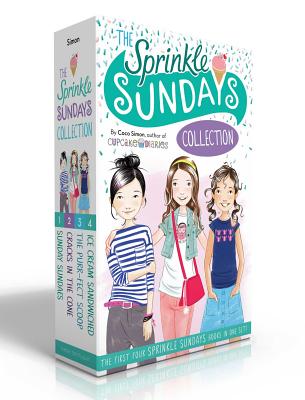 The Sprinkle Sundays Collection
Sunday Sundaes; Cracks in the Cone; The Purr-fect Scoop; Ice Cream Sandwiched
Paperback

* Individual store prices may vary.
Description
Enjoy a sprinkle of happy with the first four books in this fun, sweet series from the author of Cupcake Diaries!

Meet the Sunday Sundae Sisters! Allie, Sierra, and Tamiko have been best friends since kindergarten. Now Allie's parents are divorced and Allie has moved one town away. She can still see her friends but she no longer goes to the same middle school. So that means new teachers, new classrooms, and new students to deal with—all without her BFFs for support. But when Allie's mom decides to fulfill her lifelong dream and open up an ice cream shop, Allie has an idea. Maybe she and her friends can work in the shop every Sunday! It's a way for them to stay in touch every week and have fun—that is, of course, until they actually start working.

This yummy four-book collection includes:
Sunday Sundaes
Cracks in the Cone
The Purr-fect Scoop
Ice Cream Sandwiched
Simon Spotlight, 9781534438668, 640pp.
Publication Date: December 11, 2018
About the Author
From cupcakes to ice cream and donuts! Having written over thirty books about middle school girls and cupcakes and ice cream, Coco Simon decided it was time for a change; so she's switched her focus to her third favorite sweet treat: donuts! When she's not daydreaming about yummy snacks, Coco edits children's books and has written close to one hundred books for children, tweens, and young adults, which is a lot less than the number of cupcakes, ice cream cones, and donuts she's eaten. She is the author of the Cupcake Diaries, the Sprinkle Sundays, and the Donut Dreams series.