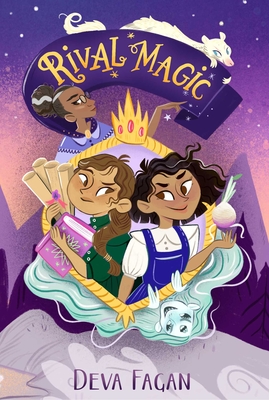 Rival Magic (Hardcover)
Atheneum Books for Young Readers, 9781534439054, 288pp.
Publication Date: April 21, 2020
* Individual store prices may vary.
Description
A young wizard's apprentice discovers that the best magic is not the biggest or the brightest, but the magic unique to you, in this cinematic middle grade fantasy in the tradition of Kiki's Delivery Service and The School for Good and Evil.

Antonia may not be the most powerful wizard the world has ever seen, but she's worked hard to win her place as apprentice to renowned sorcerer Master Betrys. Unfortunately, even her best dancing turnip charm might not be enough when Moppe the scullery maid turns out to be a magical prodigy. Now that Betrys has taken Moppe on as a second apprentice, Antonia's path to wizarding just got a bit more complicated.

But when Betrys is accused of treason, Antonia and Moppe are forced to go on the run. To prove their master's innocence—and their own—the rivals must become allies. As their island province teeters on the brink of rebellion, they'll face ancient spells, vengeful mermaids, enchanted turnips, voice-stealing forests, and one insatiable sea monster.
About the Author
Deva Fagan writes fantasy and science fiction for kids, teens, and adults. She lives in Maine with her husband and her dog. When she's not writing, she spends her time reading, doing geometry, playing video games, hiking, and drinking copious amounts of tea. She is the author of Rival Magic, Fortune's Folly, The Magical Misadventures of Prunella Bogthistle, Circus Galacticus, and Nightingale. You can find her online at DevaFagan.com.
Praise For Rival Magic…
"Full of fierce girls, fabulously fun magic, humor, and so much heart. I loved it!"—Stephanie Burgis, author of The Dragon with a Chocolate Heart and Kat, Incorrigible

"Antonia's lively first-person narration lends immediacy and suspense to this compelling, complex adventure filled with capable, complex, brown-skinned women. Clever, fast-paced fantasy punctuated with surprising twists and plenty of girl power."
— Kirkus Reviews

"Fagan establishes a warm, complicated world where magic is an accepted part of life—there are sorcerers, merfolk, and sea serpents—though wielded by only a few. As the girls' relationship shifts from wary rivals to begrudging allies and then to something much deeper, the intriguing story throws in enough twists to keep readers on their toes. A gorgeous fairy tale that touches on the benefits of cooperation and the beauty of discovering one's own particular brand of magic."
— Booklist

"A solid core of complexity underlies plentiful magical antics. . . . This is solidly in the wheelhouse of Fagan, and lovably imperfect heroines, dancing turnips, a sea monster or two, and a political whodunnit keep the pages turning until the satisfying conclusion."
— BCCB

"A fast-paced and pleasant magical read that proves that the power of friendship can help overcome many challenges. A strong choice for middle grade readers who enjoy adventure, fantasy, and enemies-to-friends tales."
— School Library Journal