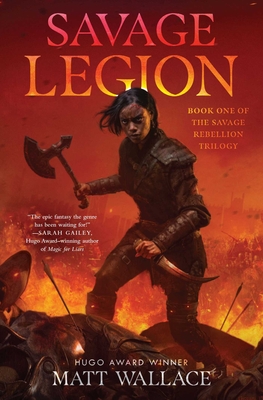 Savage Legion (Savage Rebellion #1)
Paperback

* Individual store prices may vary.
Other Editions of This Title:
Digital Audiobook (7/20/2020)
Compact Disc (7/21/2020)
Hardcover (7/21/2020)
Description
The acclaimed, epic, and spellbinding fantasy by Hugo Award–winning author Matt Wallace, about a utopian city with a dark secret…and the underdogs who will expose it, or die trying.

They call them Savages. Brutal. Efficient. Expendable.

The empire relies on them. The Savages are the greatest weapon they ever developed. Culled from the streets of their cities, they take the ones no one will miss and throw them, by the thousands, at the empire's enemies. If they live, they fight again. If they die, there are always more to take their place.

Evie is not a Savage. She's a warrior with a mission: to find the man she once loved, the man who holds the key to exposing the secret of the Savage Legion and ending the mass conscription of the empire's poor and wretched.

But to find him, she must become one of them, to be marked in her blood, to fight in their wars, and to find her purpose. Evie will die a Savage if she has to, but not before showing the world who she really is and what the Savage Legion can really do.

This remarkable and captivating fantasy will take you on a journey into the heart of brutal battles, dire situations, and odds that seem too high to overcome.
Praise For Savage Legion (Savage Rebellion #1)…
"Savage Legion is the epic fantasy the genre has been waiting for!"—Sarah Gailey, Hugo award winning author of Magic for Liars.

"Wallace deploys an epic tag-team of smack-you-in-the-face fight sequences alongside ingenious world building in this fast-paced first round of a fantasy trilogy taking on—and taking down—the allure of empire."—Kate Elliot, acclaimed author of the Crown of Stars series

"Smart characters and brutal action create an intriguing story about power and the decisions made to keep it."
— Library Journal, starred review

"Cunning plotting and brisk action elevate this impressive tale of swords and super-science."
— Publishers Weekly, Starred Review

"Smart characters and brutal action create an intriguing story about power and the decisions made to keep it...filled with rich worldbuilding and people who battle bravely."
— Library Journal, Starred Review
Gallery / Saga Press, 9781534439214, 528pp.
Publication Date: April 13, 2021
About the Author
Matt Wallace is the Hugo nominated author of Rencor: Life in Grudge City and the Sin du Jour series, and he won a Hugo Award alongside Mur Lafferty for the fancast Ditch Diggers. He's also penned more than a hundred short stories in addition to writing for film and television. In his youth, he traveled the world as a professional wrestler and unarmed combat and self-defense instructor before retiring to write full-time. He currently resides in Los Angeles with his wife, Nikki.