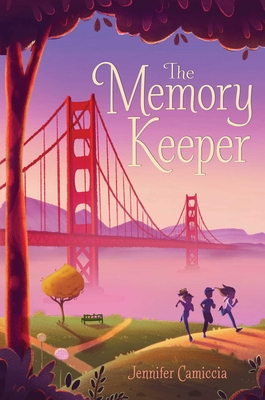 The Memory Keeper
Hardcover

* Individual store prices may vary.
Other Editions of This Title:
Digital Audiobook (3/21/2022)
Paperback (10/13/2020)
Description
"A heartfelt tale of an exceptional girl." —BCCB
"Poignant…heartwarming." —School Library Journal

Fish in a Tree meets The Thing About Jellyfish in this heartfelt middle grade debut about long-buried secrets, the power of memory, and the bond between a girl and her grandmother.

All Lulu Carter wants is to be seen. But her parents are lost in their own worlds, and Lulu has learned the hard way that having something as rare as HSAM—the ability to remember almost every single moment in her life—won't make you popular in school.

At least Lulu has Gram, who knows the truth about Lulu's memory and loves her all the more for it. But Gram has started becoming absentminded, and the more lost she gets, the more she depends on Lulu…until Lulu realizes her memory holds the very key to fixing Gram's forgetfulness. Once Lulu learns that trauma can cause amnesia, all she needs to do to cure Gram is hunt down that painful moment in Gram's life.

With her friends Olivia and Max, Lulu digs into Gram's mysterious past. But they soon realize some secrets should stay buried, and Lulu wonders if she ever knew Gram at all. It's up to Lulu to uncover the truth before the only person who truly sees her slips away.
Praise For The Memory Keeper…
"Memories can be complicated. Thirteen-year-old Lulu has highly superior autobiographical memory (HSAM), allowing her to recall everything she has ever experienced; Gram, who is Lulu's kindred spirit, finds herself increasingly forgetful; and Mom and Dad (who have delegated most of their parental responsibilities to Gram) try to repress their memories of Lulu's now-deceased younger sister. Lulu hopes Gram's memory loss is the result of trauma; if she can uncover its source, she's sure Gram can be cured. In Lulu's search for secrets, she uncovers Gram's diary, her Russian passport, and a mysterious acquaintance. Camiccia's debut novel begins each chapter with a short discussion of a brain component and its function, which she links to the current story. Characters (especially family and two of Lulu's friends) are well developed, and the plot unfolds smoothly as Lulu gradually exposes Gram's hidden past, including a trauma that unfortunately does not alter Gram's prognosis. Throughout, Camiccia stresses that the best way to hold onto loved ones is by telling their stories." —Booklist

"Lulu Rose, twelve, has Highly Superior Autobiographical Memory (HSAM), an extremely rare condition that enables her to recall every single detail of her life; fearing people's reactions, she hides her memory from everyone except Gram, her grandmother and confidant, who moved in with Lulu's family years ago. Gram's own memory is now fading as signs of Alzheimer's disease steadily worsen, but Lulu is convinced that it's not Alzheimer's but amnesia linked to a traumatic event in her grandmother's mysterious past, so she gathers stories from and information about Gram in hopes that reviving those memories will cure her. This is a heartfelt tale of an exceptional girl who, for all her gifts, cannot fix what is happening to her grandmother and realizes she may not even know the woman she trusts the most. The story's gentle tone makes serious subjects, ranging from Gram's dementia to Lulu's mother's depression to Gram's father's abuse, accessible but restrained, and readers will also be intrigued by the detective-story aspect as Lulu and her friends puzzle out Gram's true past. The novel provides a diagram of the human brain, and each chapter begins with detailed explanation of one of its many components, using that anatomical element as a springboard for Lulu's contemplations. The author does an awesome job of introducing neuroscience in this intricate tale of a family that works much like the cerebral cortex: when one part struggles to deal, another steps in." —BCCB
Aladdin, 9781534439559, 352pp.
Publication Date: October 15, 2019
About the Author
Jennifer Camiccia has lived in the wilds of Los Angeles, where she wrote her first book at the tender age of five; Iran, where she developed a fear of camels and a fondness for pistachios; Hawaii, with its balmy breezes and memories of learning to swim; and the San Francisco Bay Area, where she now lives with her children and husband. Visit her online at JenCamiccia.com or on Twitter: @JenCamiccia.
or
Not Currently Available for Direct Purchase