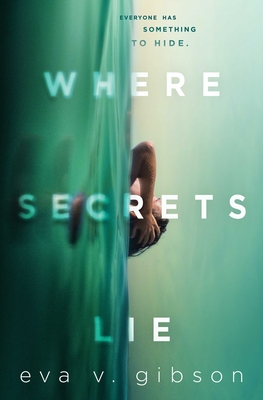 Where Secrets Lie
Hardcover

* Individual store prices may vary.
Description
"[A] gorgeous and satisfying thriller." —Booklist (starred review)

Perfect for fans of Courtney Summers, this seductive and intense thriller unfolds in interwoven timelines of two summers as three friends are torn apart by buried secrets and star-crossed attraction…then pulled back together by tragedy.

Amy Larsen has spent every summer with her cousin Ben and their best friend Teddy in River Run, Kentucky, loving country life and welcoming the break from her intensive ambitions and overbearing mother—until the summer she and Teddy confront the changing feelings and simmering sexual tension growing between them, destroying the threesome's friendship in a dramatic face-off.

One year later, Amy returns to River Run dreading what she might find. But when Teddy's sister disappears, Amy, Ben, and Teddy agree to put aside their differences to search for her. As they dig deeper into the dark history of their small town, all three friends must unearth the truths that tie their families to tragedy, cope with their own toxic upbringings and beliefs, and atone for the damage done to each other and themselves.

Told in two interwoven timelines—the summer where everything changed, and the summer that changes everything—Where Secrets Lie is a seductive thriller as dark as it is enthralling.
Praise For Where Secrets Lie…
* "[Gibson's] writing is rich in imagery and descriptive language, brushed with a touch of Southern Gothic...The emotional pitch and nuanced details add to the agonizing suspense of this gorgeous and satisfying thriller." —Booklist, starred

"Refreshingly incisive, this is a poignant, accessible exploration of intergenerational trauma, chosen family, and class privilege with gripping suspense at its center...A richly layered coming-of-age novel built upon a foundation of conscience." —Kirkus Reviews

"This well-written novel could circulate in romance collections." —School Library Journal

"With its abundance of personal angst and intergenerational strife paired with a compelling mystery, this gripping drama-thriller reads like a cross between Dawson's Creek and Riverdale." —BCCB

"As the complications of first love and friendship unfold amid unspeakable trauma, a small-town family scrambles to preserve their image. Gibson's stunning prose and true-to-life characters make Where Secrets Lie a riveting thriller that pulls you under and keeps you guessing until the very end. This book reveals how sparkling surfaces often conceal the darkest secrets buried underneath. An addictive page-turner perfect for fans of Karen M. McManus and Gillian Flynn." —Jennifer Moffett, author of Those Who Prey

"Gibson's prose is pure fire, bringing to light class disparities and tortured passion. This twisty, sultry mystery will grip you till the bitter end." —Alex Richards, author of Accidental and When We Were Strangers

"Where Secrets Lie is a twisty, emotional thriller that follows three teens whose friendship is tested by family histories, first love, class differences and an unthinkable crime. Readers will be caught up in the currents of its spell – wanting to savor Gibson's rich, atmospheric writing, while being unable to stop turning pages as quickly as possible to find out what happens next. Haunting and unputdownable."—Shannon Takaoka, author of Everything I Thought I Knew

"A fast-paced, gorgeously written thriller that deftly explores class, privilege and intergenerational family secrets. A must-read for fans of Courtney Summers, Kara Thomas, and dark, twisty YA." —Liz Lawson, author of The Lucky Ones

"Where Secrets Lie is a gripping mystery written with a poet's artistry. You'll fall in love with Amy, Teddy, Ben and the beautiful but haunted River Run. Eva V. Gibson's not afraid to probe the dark depths of our emotional rivers." —Shana Youngdahl, author of As Many Nows as I Can Get
Simon & Schuster Books for Young Readers, 9781534451223, 384pp.
Publication Date: April 20, 2021
About the Author
Eva V. Gibson was born in Virginia and grew up on the east coast of Florida, reading and writing stories deemed "too much" for her age level. She graduated with degrees in journalism and English, then spent her post-college years immersed in Asheville's art and music scene, writing for newspapers and working on the bead and jewelry circuit. She now lives the small-town life with her family, dividing her spare time between crochet projects, hiking, sporadic yoga practice, and an ever-growing stack of books she will definitely finish reading someday.