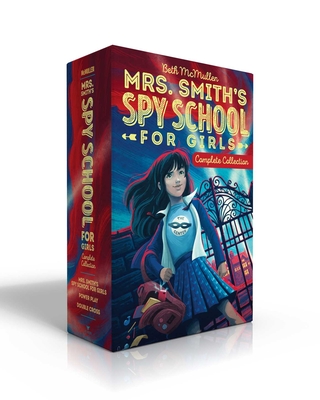 Mrs. Smith's Spy School for Girls Complete Collection
Mrs. Smith's Spy School for Girls; Power Play; Double Cross
Paperback

* Individual store prices may vary.
Description
"Fast-paced, intriguing." —Kirkus Reviews
"A celebration of friendship and girl power." —School Library Journal

Twelve-year-old Abigail discovers her elite boarding school is a top international spy ring and embarks on a quest to be a spy-in-training in this series that's perfect for fans of Stuart Gibbs's Spy School and Shannon Hale's Princess Academy!

After a botched escape from her boarding school, Abigail is stunned to discover the school is actually a training ground for future spies. Even more shocking? Abigail's mother is a top agent and has gone MIA, with valuable information that many people would like to have—at any cost.

Along with a former nemesis and a loveable boy from her grade, Abigail must go through Spy Training 101 to try and save her mom and discover what she's truly made of. With a little luck, Abby and her friends might save not only her mom, but the world.

This complete boxed set includes:
Mrs. Smith's Spy School for Girls
Power Play
Double Cross
Aladdin, 9781534452640, 912pp.
Publication Date: September 22, 2020
About the Author
Beth McMullen is the author of the Mrs. Smith's Spy School for Girls series; the Lola Benko, Treasure Hunter series; and several adult mysteries. Her books have heroes and bad guys, action and messy situations. An avid reader, she once missed her subway stop and rode the train all the way to Brooklyn because the book she was reading was that good. She lives in Northern California with her family and two cats. Visit her at BethMcMullenBooks.com.