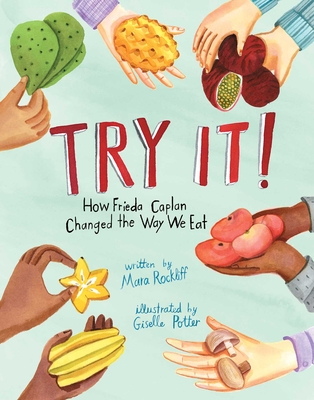 Try It!
How Frieda Caplan Changed the Way We Eat
Hardcover

* Individual store prices may vary.
Description
Meet fearless Frieda Caplan—the produce pioneer who changed the way Americans eat by introducing exciting new fruits and vegetables, from baby carrots to blood oranges to kiwis—in this brightly illustrated nonfiction picture book!

In 1956, Frieda Caplan started working at the Seventh Street Produce Market in Los Angeles. Instead of competing with the men in the business with their apples, potatoes, and tomatoes, Frieda thought, why not try something new? Staring with mushrooms, Frieda began introducing fresh and unusual foods to her customers—snap peas, seedless watermelon, mangos, and more!

This groundbreaking woman brought a whole world of delicious foods to the United States, forever changing the way we eat. Frieda Caplan was always willing to try something new—are you?
Praise For Try It!: How Frieda Caplan Changed the Way We Eat…
Baby corn? Seedless watermelons? Purple potatoes? Who'd eat that?

Frieda Caplan was the plucky produce promoter who mainstreamed much of the world's delicacies and innovative hybrids into the American kitchen. Starting her own eponymous company—Frieda's—in 1962, she ensured that her reputation was made in what was then an all-male wholesale produce business. Almost nothing was too far-out for Frieda; after all, spaghetti squash was just one more recipe card in search of a convert. However, even Frieda was stumped with the Chinese gooseberry—but sales took off after she renamed it a kiwi. Anyone who bites into a crunchy jicama or a fiery habanero purchased from a supermarket can thank the adventurous taste buds of this pioneering greengrocer. Rockliff's snappy sentences and rollicking alliteration make this a fun read-aloud: "Farmers dug for tips on what to grow. Cooks peppered her with questions"; "mounds of mongosteen, heaps of jicama, and quantities of quince." Potter's signature flat palette gives way to bright purples, brilliant reds, and crisp greens. The retro illustrations follow Frieda from her entry into a marketplace filled with "boxes of bananas. Piles of potatoes. Truckloads of tomatoes" to a consumer wonderland filled with boxes of donut peaches and cherimoyas....A delectable delight daring readers to embrace the 80,000 species of Earth's edible plants.
— Kirkus Reviews *STARRED REVIEW
Beach Lane Books, 9781534460072, 32pp.
Publication Date: January 12, 2021
About the Author
Mara Rockliff is the author of many historical books for children, including Mesmerized, winner of the Cook Prize and an Orbis Pictus Honor book, and Gingerbread for Liberty!, an ALA Notable Children's Book and winner of the Garden State Children's Book Award and Land of Enchantment Book Award. Under the pen name Lewis B. Montgomery, she wrote all twelve books in the popular Milo and Jazz Mysteries chapter book series, which has been translated into Spanish, French, and Chinese. She lives in Lancaster, Pennsylvania, with her family. Visit her online at MaraRockliff.com.

Giselle Potter has illustrated many books, including Try It! by Mara Rockliff, All By Himself? by Elana K. Arnold, and Kate and the Beanstalk by Mary Pope Osborne, as well as her own Tell Me What to Dream About, This Is My Dollhouse,and The Year I Didn't Go to School, about traveling through Italy with her parents' puppet troupe when she was eight. She lives in Rosendale, New York, with her husband and two daughters. Visit her at GisellePotter.com.