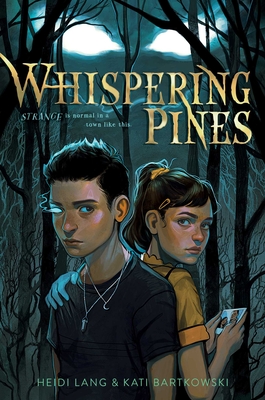 Whispering Pines
Hardcover

* Individual store prices may vary.
Other Editions of This Title:
Compact Disc (4/6/2021)
MP3 CD (4/6/2021)
Description
Stranger Things meets The X-Files in this eerie, heart-pounding middle grade adventure about a young boy and girl who must protect their small town from otherworldly forces threatening to destroy it.

Rae's father vanished without a trace—and Rae knows what happened to him. But no one believes her when she says that her father didn't run off, that he was actually taken. Now, a year of therapy later, Rae's mother decides they need a fresh start, and so they move to a new town in the hope that life can return to normal.

The problem is, there is nothing normal about the town of Whispering Pines.

No one knows this better than Caden. He's lived in Whispering Pines his entire life, and he's seen more than his fair share of weird—starting with his own family, as the town is the perfect home base for his mother's ghost hunting business.

When several kids go missing and then show up like zombies with their eyes removed, many locals brush it off. Just another day in Whispering Pines. But Caden has a dark secret, one that may explain why someone is stealing eyes. And Rae, who knows how it feels to not be believed, may be just the person Caden needs to help him put things right.
Praise For Whispering Pines…
An unearthly, eyeball-stealing cosmic horror stalks kids.

Whispering Pines, Connecticut, is a strange town where the speed limit has a decimal point and school rules include bans on both chalk and the wearing of garlic. New-kid Rae wants a fresh start—a year ago, the middle schooler had confided in her best friend that Rae's father was abducted by the government to cover up alien existence, only to be betrayed when her secrets were spread, leading to ridicule and ostracization. Her neighbor Caden is the school weirdo: His mother's a ghost hunter, and his gift of paranormal empathy landed him in trouble in his younger years. Moreover, his brother has disappeared, and he's responsible. While both kids navigate desire for friendship and connection as well as their places in complicated family dynamics, what brings them together is a mystery about something hunting kids and stealing their eyes—and its possible connection to a terrible adjacent dimension packed with horrors. The scary parts (aside from eyeballs, bodies, abominations, and the like) capitalize on sensations of wrongness, primal fears, being watched, and twisted games of hide-and-seek. The third-person narration alternates between the two characters, and in addition to their plots (both the realistically nuanced family-and-friend storylines and the genre-specific pulpy thread), the town's overflowing with red herrings to complicate the mystery and seed future Whispering Pines stories. One side character has a Japanese surname; otherwise characters default to white.

Perfect for reading under a blanket with a flashlight. (Horror. 8-13)
— Kirkus Reviews

After her dad's mysterious disappearance, Rae moves to Whispering Pines, Connecticut, with her sister and mom, who have seemingly forgotten about him. Rae, unable to forget, is certain something unusual led to his disappearance. She quickly learns that Whispering Pines is filled with strange happenings—disappearing children, random sinkholes, weird school rules. Some of the missing kids are eventually found in an even more frightful way: with their eyes missing. Rae befriends neighbor Caden, whose loneliness stems from his family's supernatural business, and the pair investigate the occurrences in town and in the Watchful Woods nearby. As Caden and Rae uncover strange truths, they realize the bizarre events may be linked to a local energy company and the disappearance of Caden's brother. Readers will feel chills from the prologue onward as they're pulled into the darkness of Whispering Pines. Chapters alternate between Rae's and Caden's points of view, slowly unraveling each character's mysterious past. Caden and Rae are both believable protagonists, admirable for the actions they take and the worries they carry, and readers will enjoy meeting the vast array of interesting side characters as well—and have to decide which ones to trust and which ones to suspect. A thrilling novel perfect for fans of Stranger Things and stories filled with mystery and suspense.
— Booklist, STARRED Review

LANG, Heidi & Kati Bartkowski. Whispering Pines. 320p. S. &S./Margaret K. McElderry Bks. Sept. 2020. Tr $17.99. ISBN 9781534460478.

Gr 4-8–Twelve-year-old Rae Carter arrives in Whispering Pines, CT, determined to appear normal. No asking people if they believe in aliens and no mention of her dad's disappearance from a secret government lab. The fact that her neighbor Caden Price's family are ghost hunters doesn't help her, nor do the strange disappearances of children. Even worse, when children do reappear, their eyes are missing. After Rae's new friend vanishes, Rae, Caden, and their friend Vivienne decide to investigate. Caden has his own experience with the supernatural; he accidentally trapped his magic-hungry brother Aiden in another dimension. Add in a suspicious green energy plant and the feeling that supernatural creatures dog their every step, and the result is a spooky story with mystery elements. The chapters alternate between Rae and Caden in third-person limited perspective. Both children are such underdog loners that readers will feel immediately sympathetic, especially as Rae and Caden's families don't seem to support them emotionally. The chilling preface where the eye-snatching demon hunts its prey, as well as other unusual settings, enhance the book's dark tone. One might wish this series opener—ending on a cliffhanger—didn't have quite so many different story threads, but perhaps they will be untangled in future installments. VERDICT Like "Goosebumps," but for an older audience, this book seems custom made for kids who like a good scare. A high appeal horror suitable for middle grade and tween readers. Recommended for most libraries.–Caitlin Augusta, Stratford Lib. Assoc., CT
— School Library Journal
Margaret K. McElderry Books, 9781534460478, 320pp.
Publication Date: September 1, 2020
About the Author
Heidi Lang managed to stumble upon the two best jobs in the world: writing for kids and walking dogs. If she's not out on the trails surrounded by wagging tails and puppy kisses, she's probably hunched over her laptop working on her next book. She lives in northern California with her husband and two adventure-loving dogs, and she is the coauthor of the Mystic Cooking Chronicles and Whispering Pines series, and author of Out of Range. Find her on Twitter @HidLang or visit the website she shares with her writing partner at HeidiandKatiBooks.com.

Kati Bartkowski was originally drawn to illustration before she got swept up in the world of words. Nowadays she's a fan of creating fantastical creatures and feisty heroines in both mediums. If she's not reading, writing, or drawing, she's probably chasing after her high energy little girl. She lives in northern California and is the coauthor of the Mystic Cooking Chronicles and Whispering Pines series. Find her on Twitter @KTBartkowski or visit the website she shares with her writing partner at HeidiandKatiBooks.com.
or
Not Currently Available for Direct Purchase