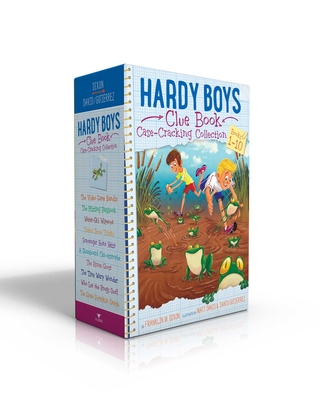 Hardy Boys Clue Book Case-Cracking Collection
The Video Game Bandit; The Missing Playbook; Water-Ski Wipeout; Talent Show Tricks; Scavenger Hunt Heist; A Skateboard Cat-astrophe; The Pirate Ghost; The Time Warp Wonder; Who Let the Frogs Out?; The Great Pumpkin Smash
Paperback

* Individual store prices may vary.
Description
Help detective brothers Frank and Joe solve mysteries in the first ten interactive Hardy Boys Clue Books, now available in a collectible boxed set.

Get to the bottom of Bayport's biggest cases as these expert kid detectives follow the clues to find the culprits! Frank and Joe track down thieves, thwart talent show sabotage, hunt for buried treasure, and more!

This paperback edition boxed set includes:
The Video Game Bandit
The Missing Playbook
Water-Ski Wipeout
Talent Show Tricks
Scavenger Hunt Heist
A Skateboard Cat-astrophe
The Pirate Ghost
The Time Warp Wonder
Who Let the Frogs Out?
The Great Pumpkin Smash
Aladdin, 9781534461512, 960pp.
Publication Date: December 8, 2020
About the Author
Franklin W. Dixon is the author of the ever-popular Hardy Boys books.

Matt David part time illustrator full time clue finder, lives and works in San Francisco. He solves mysteries with his trusty pencil and the help of his wife, son, and clever cat.

Santy Gutierrez resides in the seaside city of La Coruña, Spain. He has won acclaim as the Best Spanish Young Editorial Cartoonist and Best Galician Caricaturist, among others.