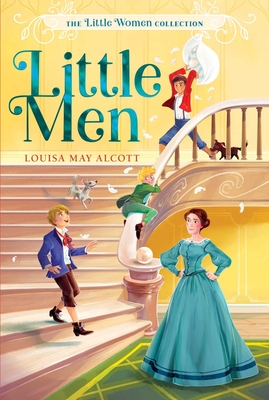 Little Men (The Little Women Collection #3) (Paperback)
Aladdin, 9781534462236, 400pp.
Publication Date: November 12, 2019
Other Editions of This Title:
Paperback (1/25/2014)
Paperback (2/10/2014)
Paperback (10/4/2017)
Paperback (3/29/2018)
Paperback (4/7/2018)
Paperback (5/27/2015)
Paperback (10/26/2017)
Paperback (2/9/2018)
Paperback (12/4/2016)
Paperback (5/25/2018)
Paperback (8/22/2018)
Paperback (9/16/2018)
Paperback (1/16/2016)
Paperback (2/9/2018)
Paperback (10/27/2016)
Paperback (3/10/2015)
Paperback (2/10/2019)
Paperback (5/11/2015)
Paperback (6/27/2014)
* Individual store prices may vary.
Description
Look out for Little Women—soon to be a major motion picture starring Saoirse Ronan, Emma Watson, Timothée Chalamet, and Meryl Streep!

Louisa May Alcott's enchanting tale of Jo March continues with this beautiful collector's edition of Little Men, the third novel in the Little Women Collection!

Following the sequel Good Wives, the third book of the series picks up where the story left off, as the now-married Jo has opened a school for boys in her late aunt's estate of Plumfield—one where pillow fights are allowed and the boys are encouraged to be themselves. But when orphaned street musician Nat Blake arrives and the boys' mischief-making gets out of control, Jo and her family's lives are turned upside down. Funny and heartwarming, this third installment of the Little Women series furthers the story of the March sisters while introducing new and just as captivating characters.

Little Men quickly became popular at the time of publication and has become a beloved classic, inspiring numerous TV and film adaptations.
About the Author
Louisa May Alcott was born in 1832 in Germantown, Pennsylvania. She is best known for Little Women (1968), which is loosely based on her own life and proved to be one of the most popular children's books ever written. Three sequels followed: Good Wives (1869), Little Men (1871), and Jo's Boys (1886). Alcott was the daughter of the famous transcendentalist Bronson Alcott and was friend of Emerson and Thoreau. In addition to writing, she worked as a teacher, governess, and Civil War nurse, as well as being an advocate of abolition, women's rights, and temperance. She died in 1888 and is buried in Sleepy Hollow cemetery in Concord, Massachusetts.