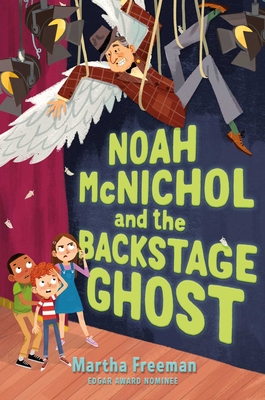 Noah McNichol and the Backstage Ghost
Hardcover

* Individual store prices may vary.
Description
"Will make a theater lover of any young reader." —Booklist​​

Perfect for fans of The Wednesday Wars, this raucous and delightful middle grade mystery from Edgar Award–nominated author Martha Freeman is filled with backstage fun, relatable family drama, and maybe even a ghost.

Break a leg! That's what you say to actors when what you mean is Have a good show!. Anything else is bad luck. When Miss Magnus literally breaks her leg, eleven-year-old Noah McNichol and the rest of the Plattsfield Winklebottom Memorial Sixth-Grade Players are left without a director for their production of Hamlet. Coach Fig comes to the rescue—sort of. He'll direct, even though he is clearly more interested in whatever is happening on his phone than in directing. He doesn't even know upstage from downstage! But then something weird happens: out of nowhere appears a strangely dressed old guy named Mike. He tells Noah he has theater experience, before disappearing—poof.

Noah has some investigating to do and some decisions to make. Like, does he care more that their new director might be a ghost or about getting to make his stage debut? And who is Mike and why has he decided to help? As things get weirder and weirder, one thing becomes clear: The show must go on, and Noah will do whatever it takes to make sure that happens.
Praise For Noah McNichol and the Backstage Ghost…
The Plattsfield-Winklebottom Memorial Sixth-Grade Players tackle Hamlet—and not the bowdlerized "No-Trauma Drama" version, either. To be sure, "Hamlet, the Tale of a Gritty Prince Who Learns To Be Patient," is what the inexperienced young players are handed—but hardly has oddly elusive new director Mike stepped in to sub for the annual event's customary one (who has, with fine irony, broken her leg) than every script magically reverts to the Bard's original and they find themselves plunged into a bloody, complicated, and much cooler scenario. But who is Mike, and how is it that he can apparently not only appear and vanish at will, but conjure elaborate sets and costumes out of thin air? Taking a cue from his erstwhile literary hero Nate the Great, Noah (aka Marcellus, Gravedigger One, Rosencrantz, and Fortinbras) sets out to solve this double mystery. . . . That's far from the only twist that Freeman delivers on the way to a triumphant performance—and a rush of family revelations. Her characters quote Shakespeare at one another as immersive rehearsals lend hard-won insights into the play's linguistic and thematic slings and arrows. Noah, who is Jewish, describes Plattsfield as predominantly White; there are a few students of color, including Fuli, a girl cast as Hamlet who emigrated from Nepal. Color-blind casting and race are explored to some degree. The play's the thing, on the boards and…beyond. (Paranormal mystery. 11-13)
— Kirkus Reviews

Theater-loving Noah has long anticipated acting in his small town's sixth-grade play, and this year the selection is Hamlet—or, rather, an abbreviated, sunnier, "no-trauma" version that the theater's benefactor deems more appropriate. Nonetheless, the drama students are excited, even when the director withdraws from the production after literally breaking a leg. When Mike, a mysterious assistant with weirdly outdated clothing and a penchant for disappearing, takes over the proceedings, everything gets a little strange. Is he a ghost? Noah wonders. And if Mike is the famous (but deceased) Broadway director whom he resembles, what is he doing haunting a school theater? Freeman's story is wonderfully fast and funny, with quick-witted screwball banter, and in a clever touch, family dinners at Noah's house are presented in script form. The drama kids are a diverse bunch, and issues of race and privilege are touched upon. A suspenseful, silly story full of humor and heart that will make a theater lover of any young reader.
— Booklist
Simon & Schuster/Paula Wiseman Books, 9781534462908, 272pp.
Publication Date: January 26, 2021
About the Author
Martha Freeman worked as a reporter and teacher before becoming a full-time writer of books for young readers, including the Edgar Award­–nominated Zap!, Born Curious, The Secret Cookie Club series, Who Stole Halloween?, and Effie Starr Zook Has One More Question, which School Library Journal called "accessible and exciting" in a starred review. She also collaborated with NASA astronaut Mark Kelly on the Astrotwins books. Martha lives in Colorado. Learn more at MarthaFreeman.com.