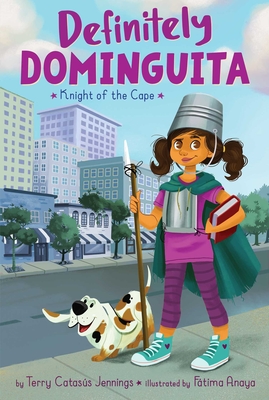 Knight of the Cape (Definitely Dominguita #1)
Hardcover

* Individual store prices may vary.
Other Editions of This Title:
Paperback (3/2/2021)
Description
Judy Moody meets Netflix's One Day at a Time in this first book in a new chapter book series featuring a young Cuban American girl who tries to find adventure based on the classics she read with her beloved abuela—can Dominguita become a noble knight?

All Dominguita wants to do is read. Especially the books in Spanish that Abuela gave to her just before she moved away. They were classics that Abuela and Dominguita read together, classics her abuela brought with her all the way from Cuba when she was a young girl. It helps Dominguita feel like Abuela's still there with her.

One of her favorites, Don Quixote, tells of a brave knight errant who tries to do good deeds. Dominguita decides that she, too, will become a knight and do good deeds around her community, creating a grand adventure for her to share with her abuela. And when the class bully tells Dominguita that girls can't be knights, Dom is determined to prove him wrong. With a team of new friends, can Dominguita learn how to be the hero of her own story?
Praise For Knight of the Cape (Definitely Dominguita #1)…
In this chapter-book series opener Dominguita Melendez is on a quest to teach the class bully that girls can most definitely be knights, no matter what he has to say about it.

Really, it's not so much that Dom wants to be an actual knight. She simply wants to read about them in peace. Reading makes her feel close to her abuela, who just left for Florida to live with her sister because she can't remember things like she used to. Reading Abuela's favorite book, Don Quijote, lets the young Cubana feel like they are still together. With the weekend in front of her, Dom sets out as a knight-errant to rescue those in need. With any luck, she will have a daring rescue that her brother, Rafi, can write about, both to prove Ernie Bublassi wrong and to send to Abuela. With some help, Dom finds armor and a lance, and she even picks up a few friends along the way, learning that some adventures are better with a squire and trusty dog—er, steed—by your side. While the plot is carried by Dom's search for knightly deeds, the focus is on the relationships in her vibrant Cuban American community. It's heartwarming to see adults take a young girl's knightly play seriously. Even better are the friendships she builds with her squire, Pancho Sanchez, and her master of the cookies, Steph, who walks with a brace. Dom has olive skin, and Pancho has brown skin; Ernie and Steph seem to be White. Book 2, Captain Dom's Treasure, publishes simultaneously.

A charming adventure that will encourage kids to become knights in their own communities as well. (Fiction. 7-9)
— Kirkus Reviews, STARRED
Aladdin, 9781534465039, 144pp.
Publication Date: March 2, 2021
About the Author
On September 11, 1961, Terry Catasús Jennings landed in the United States after a short flight from Cuba. On September 12th, she was enrolled in seventh grade in an American school. Her family, including her father who had been jailed during the Bay of Pigs invasion, was now in a free country. The only catch for twelve-year-old Terry was that she could count in English and recite the days of the week and the months of the year, but not much more. Often being the only Cuban in her school—even through college—Terry knows what it's like to be the new kid on the block. She is delighted to have the opportunity, with Definitely Dominguita, to portray a child of immigrants who is normal—no different than her peers—other than she loves the classics (like Jennings did as a child) and thinks Cuban food rules.

Born in the tiniest country of Central America, Fatima Anaya always wanted to craft stories celebrating the magic in the ordinary, but even before she could write, she started to illustrate every moment. This passion for drawing motivated her to achieve a BA in graphic design at Don Bosco University in El Salvador. Her inspiration comes from love, peace, childhood, and sometimes historical events.
or
Not Currently Available for Direct Purchase