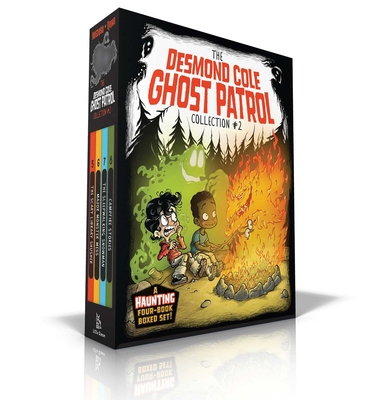 The Desmond Cole Ghost Patrol Collection #2 (Paperback)
The Scary Library Shusher; Major Monster Mess; The Sleepwalking Snowman; Campfire Stories
Little Simon, 9781534465343, 512pp.
Publication Date: July 14, 2020
* Individual store prices may vary.
Description
There's no job too spooky, icky, or risky for Desmond Cole and his best friend, Andres Miedoso, in this scary four-book collection!

Welcome to Kersville, a town with a spooky history and a collection of ghosts and monsters who are major mischief-makers.

My name is Andres Miedoso, and luckily, I live next door to the coolest, bravest kid in the world, Desmond Cole. Together, we've explored a haunted library, met creepy monster lunch ladies, been chased by a sleepwalking snowman, and told campfire stories that will give you goosebumps!

Join us for some scary stories…if you dare!

With easy-to-read language and illustrations on almost every page, the Desmond Cole Ghost Patrol chapter books are perfect for emerging readers.

This spooky four-book boxed set includes:
The Scary Library Shusher
Major Monster Mess
The Sleepwalking Snowman
Campfire Stories
About the Author
Andres Miedoso is still afraid of everything as a grown-up, even after all his adventures with Desmond Cole. He lives in New York City with his family, and he remains best friends with Desmond but returns to Kersville only when he's needed.

Victor Rivas was born and raised in Vigo, Spain, and he lives outside of Barcelona. He has been a freelance illustrator for thirty years, illustrating children's and teen books, comics, and concept art for multimedia games and animation.