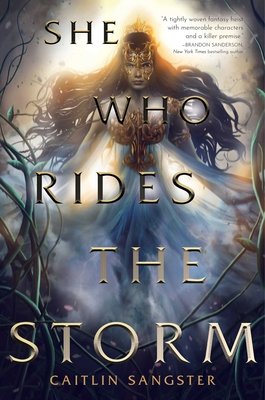 She Who Rides the Storm (The Gods-Touched Duology)
Hardcover

* Individual store prices may vary.
Description
In this atmospheric, "tightly-woven" (Brandon Sanderson, New York Times bestselling author) YA fantasy that is Wicked Saints meets There Will Come a Darkness, four teens are drawn into a high-stakes heist in the perilous tomb of an ancient shapeshifter king.

Long ago, shapeshifting monsters ruled the Commonwealth using blasphemous magic that fed on the souls of their subjects. Now, hundreds of years later, a new tomb has been uncovered, and despite the legends that disturbing a shapeshifter's final resting place will wake them once again, the Warlord is determined to dig it up.

But it isn't just the Warlord who means to brave the traps and pitfalls guarding the crypt.

A healer obsessed with tracking down the man who murdered her twin brother.
A runaway member of the Warlord's Devoted order, haunted by his sister's ghost.
An elitist archaeologist bent on finding the cure to his magical wasting disease.
A girl desperate to escape the cloistered life she didn't choose.

All four are out to steal the same cursed sword rumored to be at the very bottom of the tomb. But of course, some treasures should never see the light of day, and some secrets are best left buried…
Praise For She Who Rides the Storm (The Gods-Touched Duology)…
"Caitlin Sangster's latest novel is her most ambitious book yet. She Who Rides the Storm is a tightly-woven fantasy heist with memorable young adult characters and a killer premise."
— Brandon Sanderson, #1 New York Times bestselling author

"Ghosts. Tombs. Betrayals. With multiple unfolding mysteries, and complex and varied magics, She Who Rides the Storm digs right into a new, imaginative world, leading the reader deeper into the history—and the truth—of a divided land. Nothing is what it seems."
— Jodi Meadows, New York Times bestselling coauthor of My Plain Jane, author of The Orphan Queen and Before She Ignites

The newly discovered tomb of a long-dead shape-shifter that may contain a powerful and dangerous treasure draws the interest of four young people, each with their own motives for finding it.

Herbal healer Anwei has not given up on hunting for her twin brother's killer, and now she finally has a lead on his murderer. Knox, her friend and partner in crime—they are thieves for hire—is a runaway from the Devoted, living in fear of discovery. The Devoted hunt Basists like Anwei, regarding them as wicked and inhuman. Meanwhile, Knox's former best friend, Lia, struggles with the weight of her oaths to the Devoted and the heavy sacrifices they have required. Archaeology student Mateo searches for a cure for his fatal wasting sickness, unsure whether to believe legends of curses that follow from interfering with a shape-shifter's burial place. Their paths lead them together, to long-forgotten secrets that may hold the key to what they seek. The worldbuilding, which includes a detailed cosmology, is strong without overreliance on exposition, and the setting's magic system is well described without getting bogged down in minutiae. The characters are richly detailed, and the prose invites rereading of earlier passages after each flashback or revelatory conversation. The dramatic tension builds to a final plot twist that will delight fans of intricate, complex fantasies. Characters in this world have varied physical appearances; some naming conventions and other story elements seem to draw inspiration from diverse real-world cultures.

Will leave readers clamoring for more.
— Kirkus Reviews
Margaret K. McElderry Books, 9781534466111, 608pp.
Publication Date: September 21, 2021
About the Author
Caitlin Sangster is the author of the Last Star Burning trilogy and the Gods-Touched duology. She is also the founder and cohost of the Lit Service podcast. She grew up in the backwoods of northern California, has lived in China, Taiwan, Utah, and Montana and can often be found dragging her poor husband and four children onto hikes that feature far too many bears. You can find her online at CaitlinSangster.com.