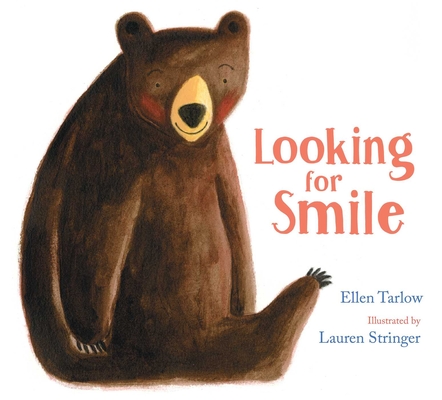 Looking for Smile
Hardcover

* Individual store prices may vary.
Description
In this sweet and gentle picture book, Bear wakes one day to find his Smile gone and enlists his friends to help him find it.

Bear and Smile are always together. They wake up together, swim by the waterfall together, and eat honey together. But one day, Bear wakes up and Smile is nowhere to be found. With the help of his woodland friends, will Bear be able to find his Smile again?

This tender and special debut picture book explores sadness with a light touch and shows that sometimes a good friend can make all the difference.
Praise For Looking for Smile…
A tenderhearted, life-affirming exploration of the depressive cycle through simple language and a rich visual vocabulary.

Bear and Smile seem inseparable. They do everything together: wake, munch, roam floral fields and wooded wilderness, plunge into waterfalls, and slurp golden gobs of honey. Suffused with a solar glow, vibrant illustrations undergirded by the inimitable texture of Arches paper initially exude the most wonderful warmth. All is clearly well—but, as the world has a habit of reminding us, great difficulties sometimes arrive abruptly. One morning—without warning, without reason—Bear finds himself alone. Smile is nowhere to be found. Amid Bear's gloomy landscape, a few objects retain their true colors, but the rest of the world is subsumed by a deep blue malaise. Rabbit notices something is amiss and suggests Bear seek Smile in his favorite places; Bear searches everywhere, to no avail. Bear slurps a pawful of honey as a last resort; still, Smile doesn't return. As hope fades, Bird swoops in and asks what's wrong. Bear shares his sorrow, and Bird sits alongside him. They share the comfortable silence of confidants—until Bird begins to sing, softly at first, then louder as Bear hums in harmony. As they fill the forest with song, something stirs deep within Bear. As it rises, the world slowly shifts. Color imbues the page. Life irrupts anew. At long last, Smile appears on Bear's face.

Invaluable in this moment and beyond.
— Kirkus Reviews *STARRED REVIEW
Beach Lane Books, 9781534466197, 48pp.
Publication Date: September 29, 2020
About the Author
Ellen Tarlow lives in Sunnyside, Queens, with her husband, David (a painter), and Frankie (a cat). Most mornings she goes to her job as an early literacy specialist where she gets to work with children's books all day. Riding a bike, the arrival of spring, and encouraging animals to talk (on paper) are some of the things that make her smile.

Lauren Stringer has illustrated many celebrated picture books, including Deer Dancer by Mary Lyn Ray; The Princess and Her Panther by Wendy Orr; Scarecrow and Snow, both written by Cynthia Rylant; as well as her own Winter Is the Warmest Season and When Stravinsky Met Nijinsky. She lives with her family in Minneapolis, Minnesota. Visit her at LaurenStringer.com.