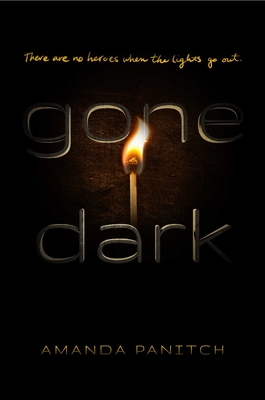 Gone Dark
Hardcover

* Individual store prices may vary.
Other Editions of This Title:
Digital Audiobook (4/11/2022)
Compact Disc (4/12/2022)
Description
Dry meets Hatchet in this thrilling tale of survival following a teen girl who must lead her friends across the country to the safety of her estranged father's survivalist compound after a mass power failure leaves the country in chaos.

When seventeen-year-old Zara escaped her father's backwoods survivalist compound five years ago, she traded crossbows and skinning hides for electricity and video games…and tried to forget the tragedy that drove her away.

Until a malware attack on the United States electrical grids cuts off the entire country's power.

In the wake of the disaster and the chaos that ensues, Zara is forced to call upon skills she thought she'd never use again—and her best bet to survive is to go back to the home she left behind. Drawing upon a resilience she didn't know she had, Zara leads a growing group of friends on an epic journey across a crumbling country back to her father's compound, where their only hope for salvation lies.

But with every step she takes, Zara wonders if she truly has what it takes to face her father and the secrets of her past, or if she'd be better off hiding in the dark.
Praise For Gone Dark…
Panitch (The Trouble with Good Ideas) paints an apocalyptic psychological thriller as death, faith, love, and friendship collide in a high-stakes battle for survival. Seventeen-year-old Zara Ross, cued as white, has spent almost seven years burying memories of her family's past. Though her current hobby is gaming with Gabe Ramirez, the older brother of her best friend Estella (who both cue as Latinx), she was raised in a compound, the daughter of an isolationist doomsday prepper, taught to set traps, use a crossbow, and trust no one. When a hacker attack wipes out electric power across the U.S., civilization devolves into chaos, and Zara realizes that her father's lessons are the only thing keeping her safe. With a ragtag group of teenagers, she treks east to the perceived safety of her father's compound. Zara must confront not just what has become of humankind but what's waiting for her at the end of her journey and the impossible choices that thread the needle between death and survival. Though the plot moves a bit slow for the urgent action, Panitch pulls no punches in this evocative portrayal of a modern-day apocalypse. Ages 12–up. Agent: Merrilee Heifetz, Writers House. (Apr.)
— Publishers Weekly
Margaret K. McElderry Books, 9781534466319, 448pp.
Publication Date: April 12, 2022
About the Author
Amanda Panitch spent most of her childhood telling stories to her four younger siblings, trying both to make them laugh and scare them too much to sleep. Now she lives in New York City, where she writes dark, funny stories for teens, kids, and the pigeons that nest on her apartment balcony. You can find her online at her website, AmandaPanitch.com, or on Twitter and Instagram @AmandaPanitch.