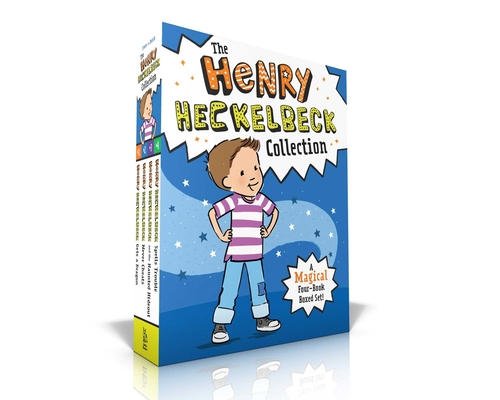 The Henry Heckelbeck Collection (Paperback)
Henry Heckelbeck Gets a Dragon; Henry Heckelbeck Never Cheats; Henry Heckelbeck and the Haunted Hideout; Henry Heckelbeck Spells Trouble
Little Simon, 9781534469075, 512pp.
Publication Date: October 27, 2020
* Individual store prices may vary.
Description
Discover the first four magical adventures of Henry Heckelbeck in this spellbinding boxed set!

Meet Henry Heckelbeck.

Henry is just like any other normal kid. He plays soccer. He isn't a fan of homework. He even has an older sister, Heidi.

What's not so normal about Henry is his family. His sister and his mom are magic.
Not Henry, though. He's just a normal kid. Or is he?

Join Henry on his awesome adventures as he discovers his own Book of Spells, joins his school soccer team, builds a secret hideout, and gets into lots of magical trouble!

With easy-to-read language and illustrations on almost every page, the Henry Heckelbeck chapter books are perfect for emerging readers.

This paperback collection includes:
Henry Heckelbeck Gets a Dragon
Henry Heckelbeck Never Cheats
Henry Heckelbeck and the Haunted Hideout
Henry Heckelbeck Spells Trouble
About the Author
Wanda Coven has always loved magic. When she was little, she used to make secret potions from smooshed shells and acorns. Then she would pretend to transport herself and her friends to enchanted places. Now she visits other worlds through writing. Wanda lives with her husband and son in San Jose, California. They have three cats: Hilda, Agnes, and Claw-dia.

Priscilla Burris has illustrated numerous books for children, parents, and teachers. She enjoys cake painting and creating art for products that include murals, greeting cards, and rubber stamps. Priscilla lives with her family in Southern California.