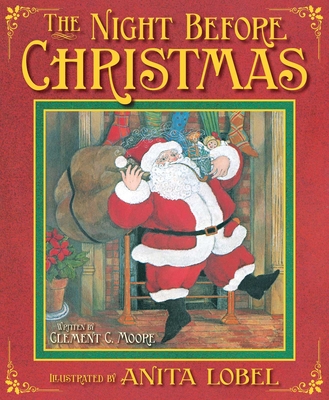 The Night Before Christmas
Hardcover

* Individual store prices may vary.
Other Editions of This Title:
Hardcover (9/14/2021)
Paperback (8/13/2013)
Paperback (4/4/1917)
Hardcover (4/4/1917)
Paperback (11/28/2012)
Paperback (11/6/2012)
Paperback (12/23/1823)
Hardcover (12/23/1823)
Paperback (8/26/2016)
Hardcover (9/15/2020)
Hardcover (11/14/2012)
Paperback (9/25/2012)
Hardcover (10/6/2020)
Paperback (12/12/2013)
Hardcover (9/13/2011)
Description
"The definitive city child's edition." —The New York Times Book Review

"Lobel's paintings are gentle and reassuring…she has captured with richness and simplicity the joy and love of the holiday season." —School Library Journal (starred review)

Caldecott Honoree and beloved illustrator Anita Lobel pairs her beautiful drawings with the beloved Christmas poem, "The Night Before Christmas," in this classic picture book that your family will treasure for years to come.

'Twas the night before Christmas, when all through the house
Not a creature was stirring, not even a mouse…

Since it was first published nearly 200 years ago "The Night Before Christmas" has enchanted readers young and old with the story of St. Nicholas landing on a snowy roof, climbing down the chimney, and filling all of the stockings with gifts before riding off in his sleigh, wishing "Happy Christmas to all, and to all a good night!"

Anna Lobel's stunning, richly detailed illustrations for the poem have been cherished by families for over thirty years. Portraying a lush Victorian New York setting, children are snug in their beds, a cat is asleep under the tree, and the quiet city is blanketed with snow. As Santa Claus leaves the city after delivering gifts, he flies over a stunning moonlit Brooklyn Bridge.

This beautiful, brand-new edition has been lovingly restored and is a gift that will be treasured year after year.
Praise For The Night Before Christmas…
First published in 1984, Lobel's interpretatons of Moore's classic poem is soothing and peaceful. Dramatically moonlit views of a snow-covered city streetscape give way to richly colored, cozy interior scenes of a turn-of-the-twentiethcentury brownstone. We get glimpses of family members sleeping snug in their quilt-covered beds; we see family portraits (one of which bears a strong resemblance to Arnold Lobel) on the walls; a fireplace hung with stockings; a Christmas tree adorned with candles. The only face shown is Santa's, as that traditionally portrayed gent goes about his toy-delivering business. A gorgeous aerial view of the Brooklyn Bridge completes the book. MARTHA V. PARRAVANO
— Horn Book Magazine
Simon & Schuster/Paula Wiseman Books, 9781534469679, 32pp.
Publication Date: September 15, 2020
About the Author
Clement C. Moore was born in in New York City in 1779. During his lifetime, he wrote in a variety of forms, including biography, translation, fiction, and poetry. He is perhaps most famous for his poem, "A Visit from St. Nicholas," which was first published anonymously in 1823, and later became known as "The Night Before Christmas." The first few lines of this poem are some of the best-known verses of American literature and Moore's descriptions of Santa Claus have contributed significantly to our conception of him. Moore died in 1863, but his legacy will live on forever.

Anita Lobel's name is synonymous with the best in children's literature. She is the creator of such classics as Alison's Zinnia and Away from Home, and she received a Caldecott Honor for her illustrations in On Market Street. She is the creator of two books about her cat, Nini, One Lighthouse, One Moon (a New York Times Best Illustrated Book), and Nini Here and There. Her childhood memoir, No Pretty Pictures: A Child of War, was a finalist for the National Book Award. Anita Lobel lives in New York City.