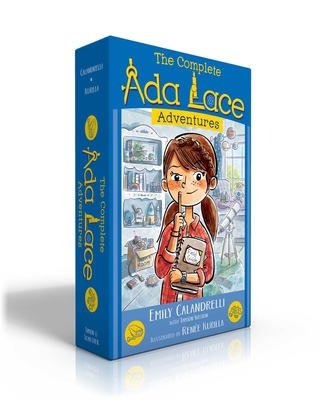 The Complete Ada Lace Adventures
Ada Lace, on the Case; Ada Lace Sees Red; Ada Lace, Take Me to Your Leader; Ada Lace and the Impossible Mission; Ada Lace and the Suspicious Artist (An Ada Lace Adventure)
Paperback

* Individual store prices may vary.
Description
From Emily Calandrelli, host of the Emmy Award–winning Xploration Outer Space and correspondent on Bill Nye Saves the World, comes a fun illustrated chapter book series about Ada Lace, a third grader with a deep love of science and technology…and a nose for trouble. Now available in a complete boxed set of the five-book series!

Ada Lace loves science, math, and technology. And when she moves into a new neighborhood, she uses her smarts and gadgets to fix problems and stop crime. Best of all, Ada's very first investigation leads her to a new friend!

With help from her best friend, Nina, Ada finds a missing dog, learns to appreciate art, cracks an extraterrestrial code, and more!

This collection includes:
Ada Lace, on the Case
Ada Lace Sees Red
Ada Lace, Take Me to Your Leader
Ada Lace and the Impossible Mission
Ada Lace and the Suspicious Artist
Simon & Schuster Books for Young Readers, 9781534473454, 592pp.
Publication Date: March 30, 2021
About the Author
Emily Calandrelli is an executive producer and the host of Xploration Outer Space, where she shows viewers the most exciting projects in the space industry today and a correspondent on the new series, Bill Nye Saves the World. Emily has a technical background with mechanical and aerospace engineering degrees from West Virginia University and Master's degrees in aeronautics and astronautics as well as technology and policy from MIT. Emily is a professional speaker and writer and is passionate about exciting students and their families about science and space exploration. Emily is also deeply passionate about getting more girls interested in STEM and STEM careers. She lives in San Francisco. Learn more at TheSpaceGal.com.

Tamson Weston is the author of Hey, Pancakes!, illustrated by Stephen Gammell, and has over fifteen years experience in children's book publishing. She works as a freelance editor and has edited books by acclaimed authors such as Adam Rex, Mac Barnett, and Dan Santat, among others. She has an MFA in writing and literature and enjoys running, biking, swimming, and lifting heavy things. She lives in Brooklyn, New York. Visit her at TamsonWeston.com.

Renée Kurilla is an illustrator of many books for kids, including Orangutanka: A Story in Poems by Margarita Engle, The Owls of Blossom Wood by Catherine Coe, and the Ada Lace Adventure series by Emily Calandrelli. She lives just south of Boston with her husband, their fluffy orange cat, Timmy, and their spiky hedgehog, Lemon. Visit her at Kurillastration.com.