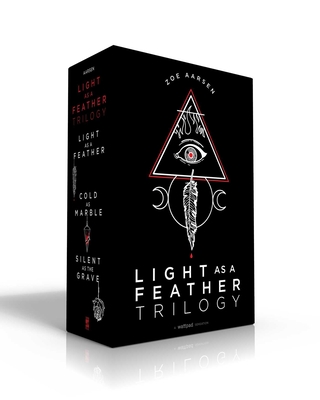 Light as a Feather Trilogy
Light as a Feather; Cold as Marble; Silent as the Grave
Paperback

* Individual store prices may vary.
Description
Look out for the original series—starring Peyton List, Brent Rivera, Liana Liberato, Ajiona Alexus, and Dylan Sprayberry—now streaming on Hulu!

The Chilling Adventures of Sabrina meets Riverdale in these fast-paced and deliciously creepy novels about an innocent game that turns deadly.

It was supposed to be a game…

Junior year is shaping up to be the best of McKenna Brady's life. For the first time, she's hanging out with the popular, gorgeous Olivia and her friends. But everything changes the night of Olivia's birthday sleepover. New girl Violet makes up elaborate, creepily specific stories about the violent ways the friends will die. It's unsettling but seems harmless…until Olivia dies a week later—exactly as Violet predicted.

Violet skyrockets to popularity, seamlessly taking Olivia's place at their high school. McKenna is convinced Olivia's death was more than a coincidence. As she investigates, McKenna becomes entangled in a force of evil much stronger than she'd bargained for. Can she cut this curse off at the source before more of her friends die?

This spine-tingling paperback boxed set includes:
Light as a Feather
Cold as Marble
Silent as the Grave
Simon Pulse, 9781534473461, 1152pp.
Publication Date: October 27, 2020
About the Author
Zoe Aarsen is a graphic designer and copywriter originally from the Midwest. She is pretty convinced that her apartment is haunted by the ghosts of every cat and hamster she's ever owned. Visit Zoe Aarsen's blog at ZoeAarsen.com and follow her on Twitter at @ZoeAarsen.