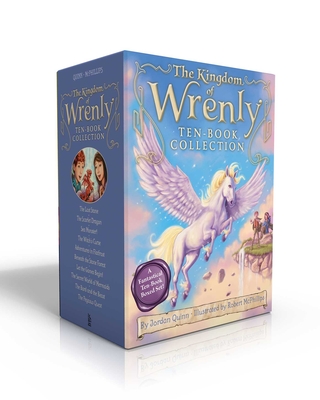 The Kingdom of Wrenly Ten-Book Collection (Paperback)
The Lost Stone; The Scarlet Dragon; Sea Monster!; The Witch's Curse; Adventures in Flatfrost; Beneath the Stone Forest; Let the Games Begin!; The Secret World of Mermaids; The Bard and the Beast; The Pegasus Quest
Little Simon, 9781534474161, 1280pp.
Publication Date: September 8, 2020
* Individual store prices may vary.
Description
Journey to the magical Kingdom of Wrenly with this fantastical ten-book paperback collection!

Welcome to the Kingdom of Wrenly! A magical land full of mythical stories and creatures.

Join Prince Lucas and his best friend Clara Gills as they discover amazing secrets, meet and help new friends, and explore the enchanted kingdom in this action-packed ten-book collection that is perfect for beginning readers. Let the adventures begin!

This quest-worthy boxed set includes:
The Scarlet Dragon
The Lost Stone
Sea Monster!
The Witch's Curse
Adventures in Flatfrost
Beneath the Stone Forest
Let the Games Begin!
Secret World of Mermaids
The Bard and the Beast
The Pegasus Quest
About the Author
Jordan Quinn grew up in a fairy tale castle in England. It had a spiral stone staircase, a moat, and a dungeon. As a child she liked to play hide-and-go-seek and ride her beloved horse, Prince Charming. When she wasn't riding, she wrote stories about fairies, trolls, dragons, and wizards. Today Jordan lives on a ranch in California with her husband, son, and a golden retriever named Sir Toots-a-Lot.

Robert McPhillips has been involved in a wide variety of projects over the years—from illustrating greeting cards to animation, though he especially loves illustrating children's books. Robert makes his home in North Devon, England, with his wife, Sam.