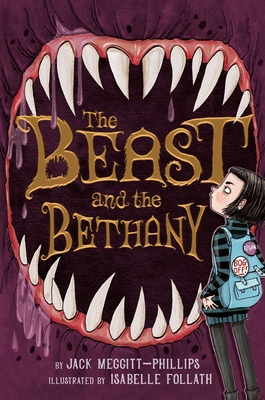 The Beast and the Bethany
Hardcover

* Individual store prices may vary.
Description
Lemony Snicket meets Roald Dahl in this riotously funny, deliciously macabre, and highly illustrated tale of a hungry beast, a vain immortal man, and a not-so-charming little girl who doesn't know she's about to be eaten.

Beauty comes at a price. And no one knows that better than Ebenezer Tweezer, who has stayed beautiful for 511 years. How, you may wonder? Ebenezer simply has to feed the beast in the attic of his mansion. In return for meals of performing monkeys, statues of Winston Churchill, and the occasional cactus, Ebenezer gets potions that keep him young and beautiful, as well as other presents.

But the beast grows ever greedier with each meal, and one day he announces that he'd like to eat a nice, juicy child next. Ebenezer has never done anything quite this terrible to hold onto his wonderful life. Still, he finds the absolutely snottiest, naughtiest, and most frankly unpleasant child he can and prepares to feed her to the beast.

The child, Bethany, may just be more than Ebenezer bargained for. She's certainly a really rather rude houseguest, but Ebenezer still finds himself wishing she didn't have to be gobbled up after all. Could it be Bethany is less meal-worthy and more…friend-worthy?
Praise For The Beast and the Bethany…
"A droll tween take on The Picture of Dorian Gray... Meggitt-Phillips' ability to make readers squeal with delight, squirm in discomfort, and squawk with laughter make classical comparisons inevitable."
— Kirkus Reviews

I'm always on the lookout for something fresh and fun and was delighted to read Jack Meggitt-Phillips' The Beast and the Bethany. With equal parts Roald Dahl, Lemony Snicket, and the Brothers Grimm, he's served up a wickedly funny tale of a monster, his helper, and the beastly girl who's more than a match for them both. I loved it and couldn't put it down.


— James Ponti, New York Times bestselling author of City Spies

I loved it! (Was that okay, Jack? Please don't feed me to the beast!)
— James Riley, New York Times bestselling author of Story Thieves

This book is delightful from the first sentence, reminiscent of Roald Dahl and Neil Gaiman at their cleverest.
— School Library Journal
Aladdin, 9781534478893, 240pp.
Publication Date: December 8, 2020
About the Author
Jack Meggitt-Phillips is an author, scriptwriter, and playwright whose work has been performed at The Roundhouse and featured on Radio 4. He is scriptwriter and presenter of The History of Advertising podcast. In his mind, Jack is an enormously talented ballroom dancer, however his enthusiasm far surpasses his actual talent. Jack lives in north London where he spends most of his time drinking peculiar teas and reading P.G. Wodehouse novels.

Isabelle Follath is a freelance illustrator living in Zurich, Switzerland, with her lovely husband, her sweet daughter, and her fabulous dog. She has worked for advertising agencies, magazines, and publishers for over fifteen years, but Isabelle's true passion lies in illustrating children's books. When not drawing, Isabelle can be found making lots of coffee, trying new crafts, or going on a hunt for new art supplies and the perfect greenish-gold watercolor. Visit her online at IsabelleFollath.ch.