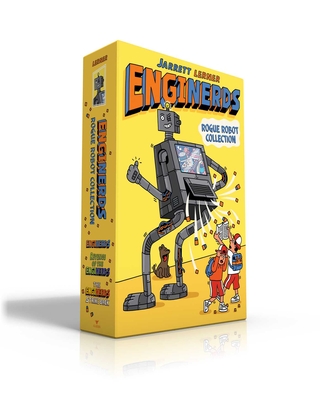 EngiNerds Rogue Robot Collection
EngiNerds; Revenge of the EngiNerds; The EngiNerds Strike Back (MAX)
Hardcover

* Individual store prices may vary.
Description
The battle between kids and bots is on in this funny, fast-paced middle grade series!

Ken is an EngiNerd: one of a supersmart group of friends—all nerds—who have been close since kindergarten. They may be brainiacs, but their lives are just like everyone else's.

Well, except for the time when Dan unleashed a horde of ravenous robots. Or when UFO-obsessed new girl Mikaela not only tried to join their all-guys group, but attempted to make contact with aliens. Or when those aliens planned to demolish Earth and the EngiNerds needed to save the planet!

But other than that—totally normal.

Dive into the hi-tech adventures in this hardcover boxed set including:
EngiNerds
Revenge of the EngiNerds
The EngiNerds Strike Back
Aladdin, 9781534481022, 608pp.
Publication Date: February 23, 2021
About the Author
Jarrett Lerner lives with his family in Medford, Massachusetts. You can visit him online at JarrettLerner.com and find him on Twitter and Instagram @Jarrett_Lerner.