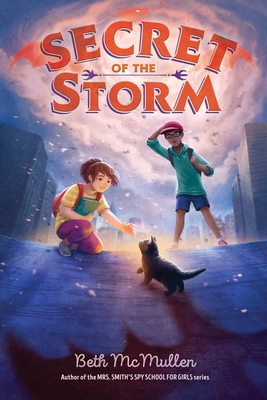 Secret of the Storm
Hardcover

* Individual store prices may vary.
Description
Seekers of the Wild Realm meets My Diary from the Edge of the World in this poignant and "action-packed" (School Library Journal) story of a lonely girl who befriends a kitten that might be much more—the first in a new series from author of Mrs. Smith's Spy School for Girls, Beth McMullen!

Twelve-year-old Cassie King's father always told her the universe was on her side. All she had to do was work hard and things would go her way. But then Cassie's father died, her mom retreated into herself, and her best friend traded her in for the popular crowd at school. The only thing Cassie still has is the volunteer work she does at the local library, a place where she can leave her troubles behind. Unfortunately, classmate and school outcast Joe Robinson is always there doing the same thing.

One day, while Cassie and Joe are leaving the library, a bizarre storm hits, trapping them in a narrow alley. In the storm's aftermath, Cassie discovers a bedraggled little kitten abandoned in a smelly dumpster. Cassie feels an immediate connection to the kitten and takes him home.

But the kitten—who Cassie names Albert—is a little odd, with impossible strength and agility for a creature his size. At one point, Cassie swears she sees plumes of smoke rising from his water bowl, and one afternoon, while Albert is alone in her room, a strange symbol appears on the closet door. With new friend Joe's help, Cassie figures out the symbol is a map. But a map to what?

The friends soon discover that Albert is much more than he appears and is in grave danger. He needs Cassie's help in ways she never could have imagined. Keeping him safe is the first thing Cassie has believed in for a long time. But is she strong enough to face down a sinister enemy moving ever closer and protect everything she loves?
Praise For Secret of the Storm…
What do black holes, the FBI, and a kitten that smells like burned plastic have in common?

They are part of the mystery middle schooler Cassie Jones and fellow public library volunteer Joe Robinson are trying to solve. In the boring town of Lewiston, California, Cassie and Joe find a miraculously unharmed black kitten in a dumpster that was struck by lightning during a freak storm. The fire-prone kitten becomes Cassie's loyal companion as she navigates grief over her father's death a year earlier, her mother's overwhelming anxiety, and the bullying she receives from peers—and even at the hands of her best friend, Mia Wilson. Central to the mystery are a rainbow-haired librarian with a notebook of secrets and a professor who rants about the existence of dragons. While experienced readers may anticipate some of the reveals, there is plenty of action to keep them invested. Balancing the serious notes are the feel-good elements in this story of a girl who finds courage and true friendship after great loss. The first book in a new series, it ends with a twist that will have readers eagerly awaiting the sequel. Most characters default to White; Joe has brown skin.

Fans of fantasy adventures will find a lot to love. (Fantasy. 8-12)
— Kirkus Review STARRED REVIEW

A year after her father's sudden death, 12-year-old Cassie's life is unraveling. At home, her mother has withdrawn from the challenges of parenthood. And at school, when Cassie's only friend starts hanging out with "the popular posse," she has no one even to sit with at lunch. Enter Joe, the nerdiest kid in her class, offering friendship, if she has the courage to accept it. Thrown together during a weirdly localized, supernaturally violent storm, they find a kitten in a dumpster, and Cassie takes it home. As she and Joe try to solve a decades-old mystery related to supernatural storms in the past, they come to accept that the kitten is not what it seems, but a legendary creature from another dimension. Details of middle-school life and worries at home keep Cassie's first-person narrative grounded in reality, making the vividly described fantasy elements easier to accept when they arise. From the writer of Mrs. Smith's Spy School for Girls (2017) and its sequels, this well-paced, enjoyable novel is the first volume in a promising fantasy adventure series.

— Carolyn Phelan
— Booklist

Twelve-year-old Cassie Jones has had a hard year; her father was killed in a car accident. The pain of that moment is a constant in Cassie's life, and her mother now spends her days sleeping and taking pills to cope. Her best friend, Mia, has become popular and distances herself, making Cassie feel lonelier than ever. Things take an unexpected turn when Cassie and fellow library volunteer Joe get caught in a sudden storm. As it subsides, Cassie and Joe emerge only to hear the soft mews of a kitten, who they name Albert. Something isn't right about this cat, though. Unexplained things keep happening; random items start burning and there are more sudden storms. As the two attempt to learn more about Albert, they find out that there are others looking for him. Cassie and Joe need to figure out what Albert is and how to help him before it is too late, and the cliffhanger ending ­alludes to a sequel. Joe is the only person of color explicitly described. VERDICT A quick, action-packed read perfect for fans of ­animal, fantasy, and mystery tales.–Katie Llera
— School Library Journal
Aladdin, 9781534482852, 304pp.
Publication Date: March 1, 2022
About the Author
Beth McMullen is the author of the Mrs. Smith's Spy School for Girls series; the Lola Benko, Treasure Hunter series; the Secret of the Storm series; and several adult mysteries. Her books have heroes and bad guys, action and messy situations. An avid reader, she once missed her subway stop and rode the train all the way to Brooklyn because the book she was reading was that good. She lives in northern California with her family and two cats. Visit her at BethMcMullenBooks.com.