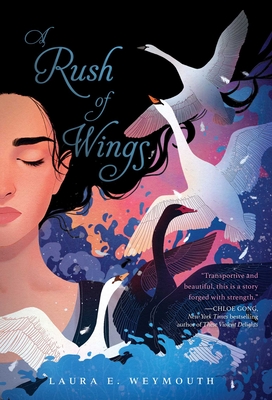 A Rush of Wings
Hardcover

* Individual store prices may vary.
Description
For fans of Serpent & Dove and A House of Salt and Sorrows comes a darkly atmospheric and romantic fantasy about an untrained witch who must unlock her power to free her brothers from a terrible curse and save her home.

Rowenna Winthrop has always known there's magic within her. But though she hears voices on the wind and possesses unusual talents, her mother Mairead believes Rowenna lacks discipline, and refuses to teach her the craft that keeps their Scottish village safe. And when Mairead dies a sinister death, it seems Rowenna's only chance to grow into her power has died with her. Then, on a fateful, storm-tossed night, Rowenna rescues a handsome stranger named Gawen from a shipwreck, and her mother miraculously returns from the dead. Or so it appears.

The resurrected Mairead is nothing like the old one. To hide her new monstrous nature, she turns Rowenna's brothers and Gawen into swans and robs Rowenna of her voice. Forced to flee, Rowenna travels to the city of Inverness to find a way to break the curse. But monsters take many forms, and in Inverness, Rowenna is soon caught in a web of strangers who want to use her raw magic for their own gain. If she wishes to save herself and the people she loves most, Rowenna will have to take her fate into her own hands and unlock the power that has evaded her for so long.
Praise For A Rush of Wings…
"Atmospheric and lyrical, Weymouth spins magic and whimsy like she was born of it. A Rush of Wings bewitched me body and soul, and I love...I love...I love it!"
— Lauren Blackwood, author of Within These Wicked Walls

"A gorgeously-rendered retelling—lovely, raw, and fierce."
— Joanna Ruth Meyer, author of Echo North and Into The Heartless Wood

"Outlander meets an old classic in A Rush of Wings, Laura E. Weymouth's retelling of the seven swans. Chock-full of cold, coastal atmosphere and ancient magic, Rush also features Weymouth's signature, a fully-drawn cast of characters who are by turns prickly, stern, deceptive, cruel, and vulnerable. Another success from a brilliant author."
— Anna Bright, author of The Beholder and The Boundless
Margaret K. McElderry Books, 9781534493087, 320pp.
Publication Date: November 2, 2021
About the Author
Laura Weymouth is the author of several novels, including the critically acclaimed The Light Between Worlds, A Treason of Thorns, and A Rush of Wings. Born and raised in the Niagara region of Ontario, Laura now lives at the edge of the woods in western New York with her husband, two wild-hearted daughters, and an ever-expanding menagerie of animal friends. Learn more at LauraEWeymouth.com.