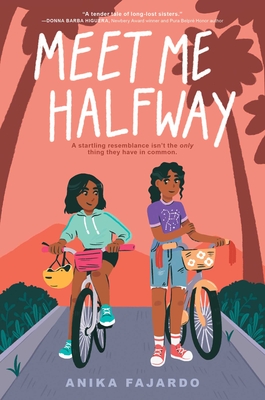 Meet Me Halfway
Hardcover

* Individual store prices may vary.
Description
When new classmates Mattie and Mercedes meet and realize they have the same Colombian dad, the two team up in a Parent Trap–inspired misadventure to meet him for the first time in this sharp and poignant middle grade novel about the bonds that make a family.

Mattie Gomez feels directionless after being uprooted from her beloved Minnesota and forced to move in with her new stepfamily in California. So when she meets a girl at her new middle school who looks exactly like her, she's not sure what to make of it.

But her doppelganger, the popular Mercedes Miller, doesn't like it one bit.

Mercedes is used to getting what she wants, when she wants; Mattie would rather be invisible and blend into the background. Mercedes lives in a big empty house with her nanny; Mattie's new home is packed-to-the-gills, twenty-four/seven chaos. Mercedes has a short fuse; Mattie is a planner. Though they may look alike, the two of them couldn't be more different.

Soon enough, however, Mattie and Mercedes learn that they have at least one thing in common: a dad from Colombia that neither of them has ever met. Determined to meet the father they've never known, these polar opposites suddenly have to work together to fake sleepovers, evade their friends, and plot daring escapes from school field trips in an effort to track down him down.

If only they could stop bickering long enough to get the show on the road.
Praise For Meet Me Halfway…
Praise for Meet Me Halfway

"[T]his charming middle grade novel balances moments of levity with moments of aching sadness in a way that will resonate with readers…A heartbreaking and heartfelt selection for middle grade collections."—School Library Journal

"With its grit, humor, voice, and heart, this novel will reach readers who struggle to find peace in their families—biological or chosen."—Booklist

"[A] satisfying novel of sisterhood."—Publishers Weekly

"Sweetly woven."—Kirkus Reviews

"Fajardo weaves a clever and tender tale of long-lost sisters, separated by a father whose compass has guided him to live his life far away. Stars once bent on a path of collision, Mattie and Mercedes decide they will be the ones to write their own story and form a beautiful celestial cluster."—Donna Barba Higuera, Pura Belpré Honor and Newbery Award Winning author

"A romp of a read! With memorable characters, flashes of humor, and the tension of a high-speed car chase, this book entertains on every page! Fajardo expertly weaves together two perspectives and layers in the power of myth, the legacy of separation, and the uncuttable threads of love. For kids who want to know the truth and are willing to take risks to find it. For all readers who want to see friction – between people who seem opposite, between two ways of living – make light."—Rebecca Balcárcel, Pura Belpré Honor author of The Other Half of Happy

"Starting at a new school is always scary, but Mattie Gomez never expected to meet her own doppelganger face-to-face on the very first day. What follows is a mystery, a road trip, a tale of sisters/not sisters and friends/not friends—and a quest to uncover long buried family secrets. A delightful and compelling read from the first page to the last."—Pete Hautman, National Book Award winning author

"I love Meet Me Halfway because of its pitch-perfect Parent Trap-style hijinks, because it celebrates unconventional families, and because it shows us that there's nothing you can't handle if you have a sister by your side. A perfectly delightful story with a huge heart."—Anne Ursu, author of The Troubled Girls of Dragomir Academy
Simon & Schuster Books for Young Readers, 9781534495906, 272pp.
Publication Date: September 13, 2022
About the Author
Anika Fajardo was born in Colombia and raised in Minnesota. She wrote a book about that experience, Magical Realism for Non-Believers: A Memoir of Finding Family. Anika is also the author of What If a Fish, which won a Minnesota Book Award and was a CCBC Choices selection, and Meet Me Halfway. A writer, editor, and teacher, she lives in the very literary city of Minneapolis.