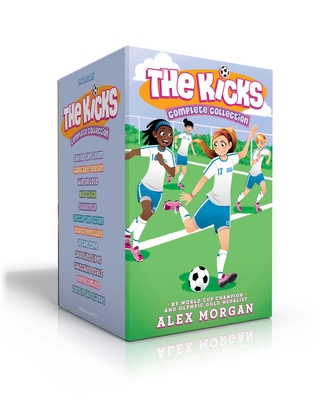 The Kicks Complete Collection
Saving the Team; Sabotage Season; Win or Lose; Hat Trick; Shaken Up; Settle the Score; Under Pressure; In the Zone; Choosing Sides; Switching Goals; Homecoming; Fans in the Stands
Hardcover

* Individual store prices may vary.
Description
From FIFA World Cup Champion, Olympic gold medalist, and bestselling author Alex Morgan comes the empowering and fun-filled middle grade series about soccer and friendship—all twelve books are now available together in a collectible boxed set.

Twelve-year-old Devin loves to play soccer. Still, she expects stiff competition after moving to California. But when Devin shows up for tryouts, she discovers that the Kentville Kangaroos—otherwise known as the Kicks—are an absolute mess. Their coach couldn't care less whether the girls win or lose. And Devin is easily one of the most talented players.

The good news is, Devin quickly makes friends with funny, outgoing Jessi; shy, but sweet, Zoe; and klutzy Emma. Can Devin and her newfound friends pull together and save the team from itself?

From new crushes to changing friendships to stiff competition on the field, the Kicks learn to believe in themselves and come together as a team.

This relatable and inspiring hardcover boxed set includes:
Saving the Team
Sabotage Season
Win or Lose
Hat Trick
Shaken Up
Settle the Score
Under Pressure
In the Zone
Choosing Sides
Switching Goals
Homecoming
Fans in the Stands
Simon & Schuster Books for Young Readers, 9781534496064, 1632pp.
Publication Date: April 20, 2021
About the Author
Alex Morgan became the youngest member of the US women's national soccer team in 2009 and competed in the 2011 FIFA World Cup. She was the first overall pick in the 2011 Women's Professional Soccer draft and landed a spot on the US Olympic women's soccer team in 2012. At the 2012 Summer Olympic Games, held in London, Morgan won her first Olympic medal, a gold, with the American team. In 2015, she achieved her lifelong goal of winning a World Cup trophy, in the most-watched soccer match in US history. She now plays for the Orlando Pride in Orlando, Florida.