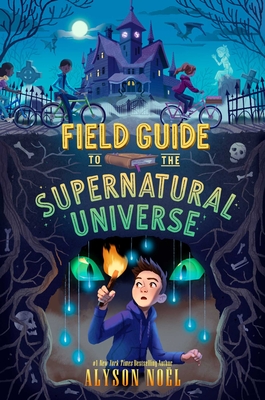 Field Guide to the Supernatural Universe
Hardcover

* Individual store prices may vary.
Other Editions of This Title:
Digital Audiobook (3/21/2022)
Compact Disc (3/22/2022)
Description
Stranger Things meets Sideways Stories from Wayside School in this quirky supernatural middle grade novel about a boy on an unlikely quest to uncover an enchanted book to defeat an unearthly nemesis—from New York Times bestselling author Alyson Noël.

When he first started seeing ghosts, Max mistakenly assumed everyone else could see them, too. Now, after years of being blamed for the pranks of mischievous spirits, Max is determined to do whatever it takes to make himself normal. But when he's sent to spend the summer with his eccentric grandfather, Ramhart, being normal becomes impossible.

Here in Glimmerville, bakeries sell enchanted pies, the lake is infested with mermaids, the town's beloved ghosts roam free, and Ramhart himself is celebrated as the world's most famous monster hunter. At first, all Max wants is to survive the summer, but the more time he spends in Glimmerville, the more he starts to wonder if he's finally found a place where he can truly be himself.

But when a supernatural attack steals Ramhart's soul, Max—with the help of a few new friends—must go on a quest to find his grandfather's renowned Field Guide, an enchanted book that contains all the knowledge Ramhart has gathered about defeating unearthly nemeses. And if they don't find the book fast, Glimmerville will crumble into chaos, and Max will lose the only person who's ever made him feel at home.
Praise For Field Guide to the Supernatural Universe…
A tween spends the summer with his eccentric grandfather, ghosts, and more.

After a viral video taken on the last day of sixth grade solidifies his status as "Class Weirdo," Maxen Smith wants nothing more than to be normal. Trouble is that Max can see ghosts—the real culprits behind what adults at school call his "incidents"—but nobody believes him. Reaching his last straw, Max's dad sends him to stay with his estranged paternal grandfather, Ramhart Woodbead, in his mansion in Glimmerville. As the mansion and its inhabitants' secrets slowly reveal themselves, Max learns that his weirdness is part of a family legacy. But when a dastardly plot renders Ramhart out of commission, Max finds himself woefully unprepared to take his place in keeping order between realms. With the help of a young ghost and a squad of Supernaturalists, Max must save not only his grandfather, but the world. Noël combines a quick pace, zany characters, and plenty of comedic relief to create a quirky adventure with heart. Strong themes of family legacies, personal mythologies, and destinies—if slightly heavy-handed—enhance the cautionary tale of hiding one's true self. The over-the-top first-person narration keeps the tone infectiously light. From a Chupacabra to mutant glowworms, the creatures encountered mix the familiar with the original for delightful worldbuilding. Max and family are White by default, but side characters add some ethnic diversity.

Spectral silliness with high appeal. (Paranormal fantasy. 8-12)
— Kirkus Reviews

Noël's latest middle-grade offering is full of quirky characters, ghosts, and zany adventures. Maxen (Woodbead) Smith is 12 years old and completely normal in every way—except for the fact that he can see ghosts. It's probably because he's the grandson of the famous ghost-hunter Ramhart Woodbead. When Max is sent to live with his oddball grandfather in Woodbead Mansion for the summer, everything seems normal at first . . . too normal. Until Max discovers the truth about Ramhart and a book called Field Guide to the Supernatural Universe. Max must face his worst fears, but there are scarier things in the normal world than demon dogs and mischievous spirits. No l's fast-paced story combines humor and action, along with the more serious theme of losing a loved one. Ideal for kids who appreciated Katherine Arden's Small Spaces (2018), a spookier story that also focuses on the themes of loss and grief, and a natural read-alike for Lamar Giles' supernatural romp, The Last Last-Day-of-Summer (2019).

— Bobbie Peyton
— Booklist

Twelve-year old Max has been seeing ghosts all his life, which has caused him no end of trouble. At school he's a social pariah, and his continual "incidents" with the paranormal may have influenced his parents' breakup. After a chaotic last day of sixth grade (which resulted in a viral video of him destroying a classroom), his father decides to send Max to stay with his grandfather, Ramhart Woodbead, at his mansion. Ramhart is known as "the Indiana Jones of the supernatural world" and authored the paranormal encyclopedia Field Guide to the Supernatural Universe. Max is initially angry at these summer plans, but realizes that the guide might hold the key to ridding himself of his unique abilities. Ramhart, however, has other ideas and begins training Max to take over the family duties of guarding graveyards, battling ghosts, and keeping the veil between the worlds secure. Max is immediately thrust into all sorts of wild and near-fatal adventures, discovering that his role in all of this was foretold in a prophecy. Will Max rise to the challenge set before him and take up the family mantle, or will he deny his destiny and risk the consequences? Narrated by Max in a droll, self-deprecating voice, this middle grade paranormal adventure by the award-winning Noël (the "Immortals" series) is irresistible. Sure to satisfy, the plot contains a cast of colorful characters including bogeys, school bullies, zombies, a monkey king, and a craven Chupacabra. Max is cued as white. VERDICT A captivating and diverting read with loads of action and humor, with a bonus lesson about accepting who you are. Recommended for purchase.–Amy Nolan
— School Library Journal
Margaret K. McElderry Books, 9781534498235, 352pp.
Publication Date: March 22, 2022
About the Author
Alyson Noël is the #1 New York Times bestselling author of many award-winning and critically acclaimed novels for readers of all ages. With over 8 million copies in print, her books have been translated into thirty-six languages, sold in over 200 countries, and have topped the New York Times, USA TODAY, Los Angeles Times, Publishers Weekly, and Wall Street Journal bestsellers lists, as well as several international bestsellers lists. Alyson is best known for The Immortals series, The Riley Bloom series, and Saving Zoë, which was adapted into a movie now available on Netflix. Born and raised in Orange County, California, she's lived in both Mykonos and Manhattan and is now settled in Southern California. Learn more at AlysonNoel.com.