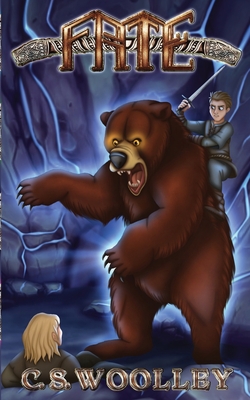 Fate
Paperback

* Individual store prices may vary.
Other Editions of This Title:
Paperback (12/28/2020)
Description
In a land of myths and legends, FATE always has the upper hand. Erland Kalebsen always dreamed of being a warrior, but now his dream is about to become a nightmare.
The sons and daughters of the last generation of warriors grew up on stories of honour, glory and daring. When a new girl arrives in Ribe, a prophecy, which is centuries old, begins to unfold.
When a girl from an across the sea arrives in Ribe, war is not far from the land. Yet hope is not lost, for the power of the arm rings can restore the balance and bring peace to all the tribes. Eight arm rings forged by the hand of Yngvar, filled with untold power. But if the hands of darkness hold them, the curse of Reinholdt will be unleashed and no power of man nor god can save the light of Midgard.
A beast will be their guardian, children they there will be, most warriors from the same land and one from far across the sea
An attack on the town by the warriors of Hedeby flings Erland, Christian, Dalla, Eva, Riki and Wifrith the wolf into an adventure that promises to change their lives forever.
Out in the wilds of the Danelands, there are more dangers to worry about than the warriors of Hedeby pursuing them at every turn. Mythical and magical beasts stalk the land, as do the v lvur, witches or staff wielders, with motivations of their own. Ambushed by their fireside, the children find themselves at the mercy of Ciara the v lva.
Can the adventurers escape the clutches of the witch, avoid the warriors of Hedeby, and find the arm ring of Yngvar that is hidden near the city of Lindholm, or are they doomed to fail, plunging their homeland into the unending fires of war.
For readers who like tales of wonder, Viking adventures, and fairy tales, FATE is a book that is not to be missed.
Buy FATE today and find yourself on your own Viking adventure.
The paperback books are specially formatted to help engage dyslexic and reluctant readers, making reading less of a chore and more of a joy.
Createspace Independent Publishing Platform, 9781534629370, 150pp.
Publication Date: June 13, 2016
About the Author
C.S. Woolley (Caroline Sarah Woolley) was born in Macclesfield, Cheshire and raised in the nearby town of Wilmslow. From an early age she discovered she had a flair and passion for writing. This was fuelled by winning local poetry and short story competitions during her years at Mottram St. Andrews Primary School. During high school, she continued to write and found her time split between acting, writing and her studies. At 14 she began writing novels. University did nothing to change her love of writing. C.S. spent a year reading Law at Manchester Metropolitan University before changing her mind and moving to read English at Hull University. After graduating she moved to Nottingham where she now lives and stays for the cricket at Trent Bridge. In 2010, C.S published her first novel, Nicolette Mace - The Raven Siren: The Kevin Metis Saga. Since 2010 she has published books in five series - The Chronicles of Celadmore, The Mysteries of Stickleback Hollow, The Children of Ribe, The Children of Snotingas and Nicolette Mace: The Raven Siren. More recently C.S has taken part in charity projects that include producing content for charity books such as Standing by the Watchtower: Volume 1. C.S has also acted in several plays and films including Weekend (2011). Hobbies: horse riding, including show jumping and cross country, Formula 1, tennis, free climbing, singing, boxing, dancing, playing guitar, cricket and is also an avid PC and console gamer. Favourite movies: The Muppet Christmas Carol, Star Wars Episode V: The Empire Strikes Back, Chisum. Favourite books: Sharpe's Prey, Silverthorn and the Three Musketeers. Favourite bands: Thin Lizzy, the Darkness and McBusted. For more information please visit: http: //www.mightierthanthesworduk.com