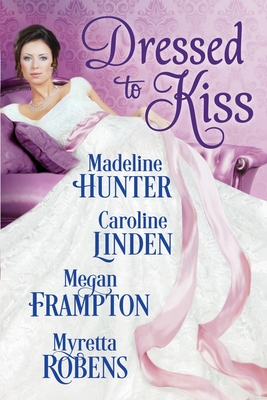 Dressed to Kiss
Paperback

* Individual store prices may vary.
Description
True love never goes out of style.... Once renowned for creating the most envied gowns in London, Madame Follette's dressmaking shop has fallen far out of fashion. The approaching coronation of King George IV offers a chance to reclaim former glory by supplying stunning new wardrobes to the most glittering society in Regency England. In the face of long-held secrets, looming scandals, and the potential ruin of their shop, the dressmakers of Follette's are undaunted, not even by the most unexpected complication of all: true love. The Duke's Dressmaker by Madeline Hunter When the Duke of Barrowmore walks into the dress shop, Selina Fontaine assumes her secret identity will be compromised. Four years ago this man's brother seduced her and abandoned her to scandal, and she holds the duke responsible. To her amazement the duke is more interested in pursuing her than exposing her, however-and that pursuit soon becomes seductively pleasurable. The Colors of Love by Myretta Robens Delyth Owen's exuberant passion for her new job as a dressmaker at Madame Follette's is matched only by her love of diverse, vibrant, and frequently unfortunate color combinations. Simon Merrithew, the pseudonymous author of a well-regarded fashion column, is horrified by the gown Delyth creates for a friend, and suspects her motives. He sets out to uncover her duplicity, but instead, he uncovers genuine joy and discovers the colors of love. No Accounting for Love by Megan Frampton Miss Katherine Grant is a lady's companion, one whose number of dishonorable offers (six) greatly outweigh her honorable ones (zero). Now tasked with making certain her charge, Lady Euphemia, does not contract herself to someone inappropriate, she finds herself inexplicably drawn to Mr. Henry Dawkins, the inappropriate gentleman Lady Euphemia wants to charm, who keeps the books at Madame Follette's. But it seems that Henry only has eyes for Miss Katherine Grant. A Fashionable Affair by Caroline Linden Madame Follette's is Felicity Dawkins's birthright; her mother founded it, and now she runs it. She's fiercely committed to making it the most exclusive modiste in London. The Earl of Carmarthen also has big plans for the shop-he wants to buy it and tear it down, to make way for a grand new boulevard of shops. One way or another, he's determined to persuade Felicity...not only to sell her shop, but to explore the passion that sparks between them every time they meet.
Createspace Independent Publishing Platform, 9781534699472, 374pp.
Publication Date: September 8, 2016
About the Author
Madeline Hunter is a two-time RITA award winner and seven-time finalist, and has twenty-five nationally bestselling historical romances in print. A member of RWA's Honor Roll, her books have been on the bestseller lists of the New York Times, USA Today, and Publisher's Weekly. More than six million copies of her books are in print and her novels have been translated into thirteen languages. She has a PhD in art history, which she teaches at the university level. You can contact Madeline through her website or Facebook page: MadelineHunter.com and facebook.com/MadelineHunter. Myretta Robens has been nominated for a RITA, and has won the Holt Medallion. Her most recent work is a contemporary short story in the anthology Jane Austen Made Me Do It. She was a founder of the Republic of Pemberley Jane Austen web site, which she continues to manage. Myretta lives near Boston with her giant Corgi and a clowder of geriatric cats. You can find her online at www.myrettarobens.com. Megan Frampton writes historical romance under her own name and romantic women's fiction as Megan Caldwell. She likes the color black, gin, dark-haired British men, and huge earrings, not in that order. She lives in Brooklyn, New York, with her husband and son. You can visit her website at www.meganframpton.com. She tweets as @meganf and is at facebook.com/meganframptonbooks. Caroline Linden was born a reader, not a writer. She earned a math degree from Harvard University and wrote computer software before turning to writing fiction. Her books have won the NEC Reader's Choice Award, the Daphne du Maurier Award, and RWA's RITA Award. Visit www.CarolineLinden.com to sign up for her newsletter, or follow her on twitter and on Facebook.