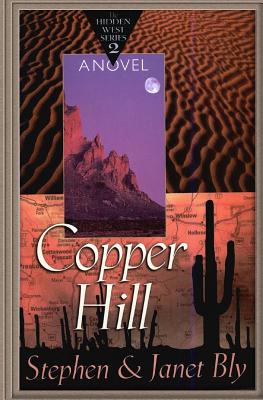 Copper Hill (Paperback)
Createspace Independent Publishing Platform, 9781534778214, 294pp.
Publication Date: July 5, 2016
* Individual store prices may vary.
Description
In the copper hills of Jerome, Arizona, one man's death could be his fortune. Western author Tony Shadowbrook and his English professor Price Shadowbrook spend another summer researching and writing together about a unique Western vacation spot. In the intriguing copper mining town of Jerome, the local color turns an ominous shade when Tony spots a strange traveler who carries his own tombstone in the back of his ruck. The is engraved with the quickly approaching date of his death. Meanwhile, wedding plans for the Shadowbrook's son Josh and Melody Mason (whom they met in Fox Island) keep everyone on edge, wondering what will happen next. Copper Hill paints a compelling picture of a family in the process of dealing with circumstances that seem out of control.
About the Author
Christy Award-winning western author Stephen Bly (1944-2011) and wife Janet Chester Bly published more than 120 fiction and nonfiction books for adults and kids. Their works included The Hidden West Series, Carson City Chronicles, the Crystal Blake Series and family life topics. Stephen Bly's last novel, Stuart Brannon's Final Shot, Book 7, Stuart Brannon Series, was completed by Janet and their sons and was a Selah Award Finalist.