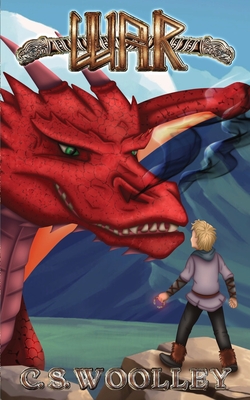 War
Paperback

* Individual store prices may vary.
Description
War is coming The council of Jelling has begun With one of the arm rings of Yngvar found, the children of Ribe and their guardian beast, Wifrith, set out to find the remaining seven rings. The warriors from Hedeby have not given up and are determined to find and kill the children of Ribe or face the wrath of their queen, Rena. King Viggo Odinsen is summoned to the council to answer for his aggression towards the people of Ribe, and though the talks are peaceful, underneath the surface, war is brewing. The people of Ribe prepared to defend their homeland from the massing armies of the south But war is the furthest thing from the minds of Erland, Dalla, Christian, Eva and Riki as in order to find the second arm ring of Yngvar, the children have to face a dragon. =+=+= The Children of Ribe is a Viking Saga for children bringing the culture and mythology of the Danish Vikings to life. The book series has been influenced by Enid Blyton, Arthur Ransome, Susan Cooper, J R R Tolkien and C. S. Lewis. Based in Denmark during the time of the Vikings, these books are tales of magic and danger that are suitable for children from the ages of seven and up to read on their own but also perfect for people to read to children from the age of 4. The Children Ribe is a modern fairy tale that brings elements of Danish folklore and mythology to life mixed with elements of Viking culture. These books have been designed to help children with dyslexia to read. You can watch author C.S. Woolley talking about dyslexia and reading from FATE, book 1 in the Children of Ribe series here: https: //youtu.be/EcnKLKa5c98 Whether you are interested in Vikings, studying them at school, or are simply shopping for the perfect gift for your favourite bookworm, the Children of Ribe series is just what you are looking for.
Createspace Independent Publishing Platform, 9781534881334, 124pp.
Publication Date: August 28, 2016
About the Author
C.S. Woolley (Caroline Sarah Woolley) was born in Macclesfield, Cheshire and raised in the nearby town of Wilmslow. From an early age she discovered she had a flair and passion for writing. This was fuelled by winning local poetry and short story competitions during her years at Mottram St. Andrews Primary School. During high school, she continued to write and found her time split between acting, writing and her studies. At 14 she began writing novels. University did nothing to change her love of writing. C.S. spent a year reading Law at Manchester Metropolitan University before changing her mind and moving to read English at Hull University. After graduating she moved to Nottingham where she now lives and stays for the cricket at Trent Bridge. In 2010, C.S published her first novel, Nicolette Mace - The Raven Siren: The Kevin Metis Saga. Since 2010 she has published books in five series - The Chronicles of Celadmore, The Mysteries of Stickleback Hollow, The Children of Ribe, The Children of Snotingas and Nicolette Mace: The Raven Siren. More recently C.S has taken part in charity projects that include producing content for charity books such as Standing by the Watchtower: Volume 1. C.S has also acted in several plays and films including Weekend (2011). Hobbies: horse riding, including show jumping and cross country, Formula 1, tennis, free climbing, singing, boxing, dancing, playing guitar, cricket and is also an avid PC and console gamer. Favourite movies: The Muppet Christmas Carol, Star Wars Episode V: The Empire Strikes Back, Chisum. Favourite books: Sharpe's Prey, Silverthorn and the Three Musketeers. Favourite bands: Thin Lizzy, the Darkness and McBusted. For more information please visit: http: //www.mightierthanthesworduk.com