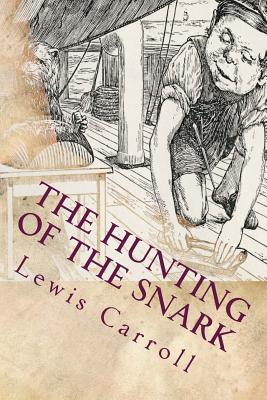 The Hunting of the Snark (Paperback)
Illustrated
Createspace Independent Publishing Platform, 9781535247917, 38pp.
Publication Date: July 12, 2016
Other Editions of This Title:
Paperback (7/18/2019)
Paperback (3/11/2016)
Paperback (3/27/2016)
Paperback (2/1/2010)
Hardcover (11/13/2018)
Paperback (2/4/2009)
Paperback (9/3/2019)
Paperback (7/19/2015)
Hardcover (8/21/2015)
Paperback (5/8/2015)
Paperback (7/18/2019)
Paperback (8/30/2012)
Paperback (4/22/2014)
Paperback (10/17/2018)
Paperback (7/17/2016)
Paperback (11/13/2018)
Paperback (7/31/2019)
* Individual store prices may vary.
Description
The Hunting of the Snark (An Agony in 8 Fits) is typically categorized as a nonsense poem written by Lewis Carroll, the pen name of Charles Lutwidge Dodgson. Written from 1874 to 1876, the poem borrows the setting, some creatures, and eight portmanteau words from Carroll's earlier poem "Jabberwocky" in his children's novel Through the Looking Glass (1871). The plot follows a crew of ten trying to hunt the Snark, an animal which may turn out to be a highly dangerous Boojum. The only one of the crew to find the Snark quickly vanishes, leading the narrator to explain that it was a Boojum after all. The poem is dedicated to young Gertrude Chataway, whom Carroll met at the English seaside town Sandown in the Isle of Wight in 1875. Included with many copies of the first edition of the poem was Carroll's religious tract, An Easter Greeting to Every Child Who Loves "Alice".