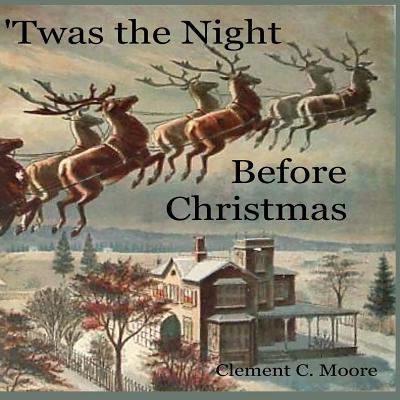 'Twas the Night Before Christmas (Paperback)
Createspace Independent Publishing Platform, 9781535445375, 42pp.
Publication Date: July 5, 2016
Other Editions of This Title:
Hardcover (9/4/2012)
Paperback (12/8/2013)
Paperback (3/17/2018)
Hardcover (11/17/2015)
Paperback (10/13/2017)
Paperback (12/26/2015)
Paperback (10/12/2016)
Paperback (11/15/2015)
Hardcover, Spanish (9/7/2012)
Board Books (9/3/2019)
Board Books (9/1/2017)
Paperback (12/12/2011)
Paperback (10/10/2017)
Paperback (8/24/2016)
Paperback (11/16/2010)
Board Books (9/15/2015)
* Individual store prices may vary.
Description
Sixteen color illustrations enlarged, redefined and enhanced. Glossary of the Reindeer's names and their meanings in back of the book. The beloved poem for all ages this verse was originally printed two days before Christmas in 1823, at the Troy Sentinel a newspaper from New York. Reprinted many times over the years, including different spellings for the reindeer. Moore first reads it to his family (wife, four girls and two boys.) Also, referred to as "A Visit From St. Nicholas", "The Night Before Christmas" and "Account of a Visit from St. Nicholas." This renown poem changed how we all perceive in our minds and hearts, St. Nicholas.
About the Author
Jessie Wilcox Smith (1863-1935) Smith was born in Philadelphia on September 6th and died May 3rd in her sixteen room home named Cogshill. At the age of sixteen Smith moved to Cincinnati, Ohio, where she trained and became a teacher in 1883 but the physical demands became too much for her. Joining her cousin at school, she discovered her talent for art. While still at school at the Pennsylvania Academy her Three Little Maidens All in a Row was published. During her career, she worked with other famous people and magazines such as Howard Pyle, Collier's, Good Housekeeping, and Harper's. Her work has been displayed in the Norman Rockwell Museum, the Library of Congress and others. With so many portraits and articles she preferred the illustrations of books and their cover suited her best. But, her money was made, in so many ways in her productive years, working on advertisements of Ivory soap and Kodak. She is another whose artistic style exhibited the influence of "Japanesque". Illustrations by Walter Crane are also presenting this pattern at times. Smith held the longest running covers on Good Housekeeping that lasted from December of 1917 to April of 1933. During her career, she wrote in an article "A child will always look directly at anyone who is telling a story; so while I paint I tell tales marvelous to hear." She did not choose to travel, but did agree on a tour of Europe in 1933 but this was her last tour. Smith died at the age of 71in 1935. A year later a memorial of her works was displayed at the Pennsylvania Academy of the Fine Arts.