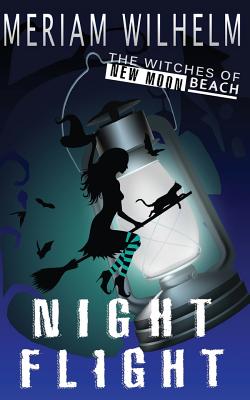 Night Flight
Paperback

* Individual store prices may vary.
Other Editions of This Title:
Paperback (6/27/2019)
Description
To everyone else Olivia Merriman's life in New Moon Beach is nearly perfect. Her beloved beach city is filled with friends and family, she owns a successful - slightly haunted- sewing and crafting shop and her old flame, Jonathan, is on his way back into her life. But Olivia, a young witch just getting a handle on her spell binding skills knows something just isn't right. Not only are her spells all going wrong, she has a new, undesired and uncontrollable habit of taking off flying at night. No one in her family of witches has ever done this and she's starting to really worry that she might be one damaged witch. When Olivia is plopped at sunrise in the middle of the hills of New Moon Beach, she fears the worst. Does somebody have it out for her? A wizard or a jealous witch? Maybe it's one of her mischievous newfound relatives. Or could it be that Olivia's own witchy-wiring has gone all haywire? Hiding this from her mortal boyfriend has suddenly become a lot more difficult than she ever expected. Whatever is going on if she doesn't get it under control and soon she's going to lose her sanity and a whole lot more And to make matters worse - New Moon Beach is in for some rocking times as Olivia learns that she is slated to be the next leader of her coven; ready or not.
Createspace Independent Publishing Platform, 9781535458429, 218pp.
Publication Date: July 19, 2016
About the Author
The one thing I know after all my years as an elementary school principal is that there is magic everywhere and in everyone. While I miss those enchanting moments with kids, I have always wanted to let my imagination run wild as I seek out my own magic and write about it. When I retired, I started to write my first books, a trilogy called The Witches of New Moon Beach and inspiration wasn't hard to find. I have lived in Redondo Beach all my life and New Moon might bear more than a passing resemblance to my hometown. Every day I walk on the path that runs along the beach, sometimes with my sisters, but most often with my thoughts as I plot my next book. I am long married and mom to three great grown kids. When I'm not writing or walking on the beach, you'll find me sewing, reading or traveling and taking pictures.