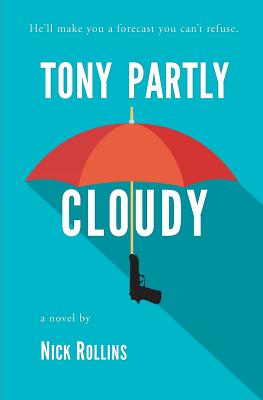 Tony Partly Cloudy
Paperback

* Individual store prices may vary.
Description
A fish-out-of-water story in the style of
My Cousin Vinny
or
Analyze This
, TONY PARTLY CLOUDY is the tale of a Mafia goon who becomes a famous TV weatherman.
** NOTE: contains some profanity, because let's face it: it's hard to get these Mafia guys to talk nice. Forget about it
Tony Bartolicotti (or Tony Partly Cloudy, as his friends in Brooklyn call him) can predict the weather with a level of accuracy that's downright freakish. But no TV station is interested in hiring a weatherman who looks and talks like a Mafia goon. Until now...
When a distantly related mob boss applies a little pressure on Tony's behalf, Tony's career starts to take off. Soon America is falling in love with the only weatherman on TV who would predict "a whole lotta freakin' snow." But then the mob decides to call in the favors they've done for Tony. That's when things get stormy.
Tony Partly Cloudy combines elements of comedy, satire, Mafia lore and romance into a slick, funny novel that readers of Elmore Leonard and Carl Hiaasen will enjoy.
Createspace Independent Publishing Platform, 9781535518352, 372pp.
Publication Date: October 27, 2013
About the Author
Nick Rollins is a Miami native who has survived multiple hurricanes, bad dentistry, and male pattern baldness. An author and blogger who also publishes under another name, Nick continues to live in South Florida, where he can keep his friends close, and his enemies closer. You can connect with Nick online here: www.facebook.com/nick.rollins.334 (If he hasn't posted anything recently, check out author Keith Cronin, with whom Nick has a love/hate relationship.) www.facebook.com/keithcronin