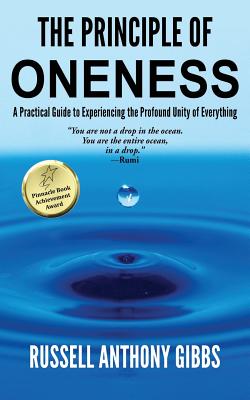 The Principle of Oneness (Paperback)
A Practical Guide to Experiencing the Profound Unity of Everything (Principles of Enlightenment #2)
Wavecloud Corporation, 9781535607889, 106pp.
Publication Date: May 19, 2017
Other Editions of This Title:
Paperback (5/19/2017)
Hardcover (5/25/2017)
* Individual store prices may vary.
Description
The Principle of Oneness expounds on the first principle from the award winning and bestselling book, The Six Principles of Enlightenment and Meaning of Life and is the second in this series of eight books on enlightenment. Many have said "We are all one" but what does that really mean? This practical guide helps you understand and experience the profound unity of everyone and everything. Author Russell Anthony Gibbs explains the science behind the connections of everything both physical matter and nonphysical energy. Gibbs supports his points with quotes from scientists, enlightened beings, spiritual leaders, philosophers and others. Great minds like Albert Einstein, Buddha, Aristotle, Rumi and Jesus all understood the profound Oneness of the Universe. Gibbs further clarifies some of the misconception about the Universe/God as well as explains how to live and experience the Principle of Oneness.
About the Author
Award winning and bestselling author Russell Anthony Gibbs is a philosopher and spiritual seeker on a quest for enlightenment. His research into Baha'ism, Buddhism, Christianity, Judaism, Hinduism, Islam, Sufism and Taoism greatly influences his spiritual and philosophical perspective. He is also profoundly influenced by the information from two channeled entities, Seth and Abraham. He further incorporates quantum mechanics, physics and psychology as well as concepts from the works of Albert Einstein, Carl Jung, Sigmund Freud and Stephen Hawking. Gibbs's communication style is concise, intense and deep. He would rather express wisdom in brief, powerful quotes and concise paragraphs than in complicated, long-winded explanations. Espresso Wisdom is short, strong, rich insight. Like espresso coffee, it gives an intense jolt of enlightenment. Enlightenment is an awakening, and Espresso Wisdom is meant to help jumpstart you on your journey. Espresso Wisdom