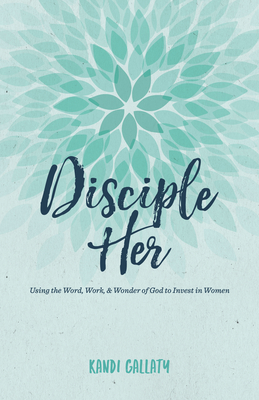 Disciple Her (Paperback)
Using the Word, Work, & Wonder of God to Invest in Women
B&H Books, 9781535902472, 224pp.
Publication Date: February 15, 2019
* Individual store prices may vary.
Description
We all know Jesus commands us to disciple others.
But how are we supposed to do this in everyday life? How can women, no matter what stage of life they are in, be a disciple who makes disciples? How can we find time to invest ourselves into others when it feels like our schedules are already full? What is our place in carrying out the Great Commission?
In this practical book, Kandi Gallaty helps you develop an effective disciple-making strategy in your life and the lives of others. Disciple Her is filled with Kandi's personal stories, more than a decade's worth of discipleship experiences, and most importantly, her commitment to the Word of God.
Kandi doesn't stop at helping women understand what discipleship is—she gives them a practical game plan for weaving it into their weekly lifestyle, and teaching those they disciple to do the same. Disciple Her will be a point of reference for women to use time and time again in the years to come as women intentionally obey Jesus' command to invest their lives into others.  
About the Author
KANDI GALLATY is a pastor's wife, a mother of two precious boys (Rig and Ryder), a speaker, and a writer who is devoted to making disciples by cultivating a passion in women for God's Word. She and her husband, Robby, coauthored Foundations, and together they lead Replicate Ministries, a ministry that educates, equips, and empowers believers to make disciples who make disciples. Kandi and her family live outside of Nashville, Tennessee and serve at their church, Long Hollow Baptist Church.