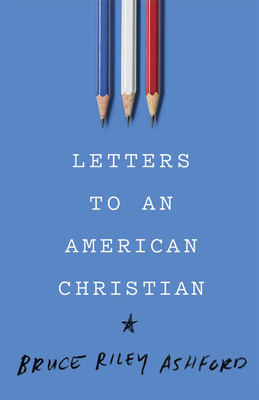 Letters to an American Christian (Paperback)
B&H Books, 9781535905138, 256pp.
Publication Date: June 1, 2018
Other Editions of This Title:
Compact Disc (6/1/2018)
* Individual store prices may vary.
Description
What does it mean to be an American Christian?

In Letters to an American Christian, Bruce Riley Ashford, author of One Nation Under God, addresses overarching issues of the relationship of Christianity and politics, speaks to the way historic Christian belief informs specific hot-button political issues, and challenges readers to take seriously both our heavenly and earthly citizenships. Written as a series of letters to "Christian"—a young college student who is a new believer—Letters to an American Christian will help every reader think carefully about how Christianity informs what it means to be an American.

In the midst of a rapidly changing national and political landscape, Letters to an American Christian reminds us of two important truths: we cannot afford to shrink away from our earthly citizenship, and we cannot afford to lose sight of our heavenly citizenship.
About the Author
Bruce Riley Ashford is married to Lauren, with whom he has two children, Riley Noelle and Anna Katherine. He was born in Chesapeake, VA, but spent his childhood years in Roseboro, NC. He received his B.A. in Communications from Campbell University. Upon graduation from Campbell, he entered Southeastern Baptist Theological Seminary, where he received his Master of Divinity. After spending two years in Central Asia as a university instructor, he returned to the United States to enter the Ph.D. program at Southeastern. He defended his dissertation, "Wittgenstein's Impact on Anglo-American Theology: Representative Models of Response to Ludwig Wittgenstein's Later Writings," in December 2003. Southeastern College and Seminary hired him in 2003, where he has taught courses in theology, philosophy, and missiology, and where he remains today as Associate Professor of Theology & Culture.

He is the editor of Theology & Practice of Mission (Nashville: B&H, 2011).

In January 2009, Ashford became the Dean of The College at Southeastern.

He is a member of the American Academy of Religion, the Evangelical Philosophical Society, the Evangelical Theological Society, American Philosophical Association, and the Evangelical Missiological Society.

In addition to his teaching schedule, Ashford has taught or preached for churches of various denominations, including Southern Baptist, American Baptist, Mennonite, Presbyterian Church-USA, Presbyterian Church of America, United Methodist Church, Episcopal, Assemblies of God, Church of God, United Pentecostal, Four Square, and Russian Baptist.
He has also worked and toured overseas in The Pacific Rim (Cambodia, Indonesia, Laos, Malaysia, Myanmar, Singapore, Thailand, Vietnam), North Africa & The Middle East (Bahrain, Egypt, Morocco, Jordan, Oman, United Arab Emirates), West Africa (Ivory Coast, Liberia), Sub-Saharan Africa (Botswana, Kenya, Madagascar, South Africa, Tanzania, Uganda), Central Asia (Armenia, Turkey, Uzbekistan), South Asia (India), East Asia (China), Central & Eastern Europe (Czech Republic, Greece, Hungary, Romania, Russia), Western Europe (France, Germany, Great Britain, The Netherlands, Switzerland) and the Caribbean (The Bahamas, Jamaica).

He has lectured or spoken on college campuses, including UNC-Chapel Hill, Duke University, University of Florida, Appalachian State University, Methodist College, UNC-Wilmington, UNC-Greensboro, Gardner-Webb University, Campbell University, West Virginia University, Marshall University, Anderson College, Criswell College, and Kazan University (Russia).

Recently, he was a co-recipient of a creative teaching grant from Yale Divinity School's Center for Faith and Culture. Together with David Nelson, associate professor of theology at Southeastern, he received one of four $5,000 awards from Yale for a course they designed to help pastors equip their congregations to live wisely in the context of contemporary American culture.