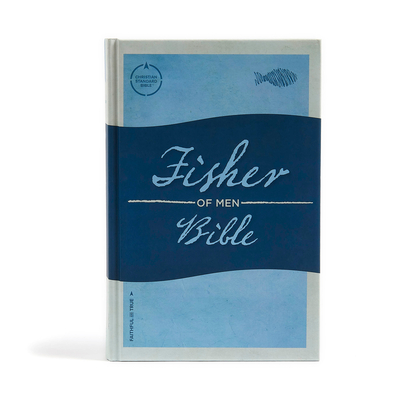 CSB Fisher of Men Bible, Hardcover (Hardcover)
Holman Bible Publishers, 9781535905732, 800pp.
Publication Date: July 1, 2018
* Individual store prices may vary.
Description
What does the Bible say about forgiveness and thanksgiving? What does it say about loneliness and depression? What verses would you use to share your faith or answer difficult questions about other world religions? Where in the Bible would you find answers about your purpose in life? We know the Word of God has the answers to all of these topics and so many more, but oftentimes we don't know where to find them.

The CSB Fisher of Men Bible is a one-of-a-kind tool that is designed to help you navigate through the Word of God for almost any life situation or topic of conversation. It features a 28-page guide that is divided into six main themes: Counseling, Devotion, Evangelism, Church, Christian Doctrine, and Apologetics.

From felt-need topics such as marriage, finances, and forgiveness to spiritual growth topics like apologetics and Christian doctrine, The CSB Fisher of Men Bible guides you to the first verse in a chain of a particular topic. There you will find a brief commentary as well as the second reference verse in the chain. Most chains have 4-5 Bible verses.
 
The CSB Fisher of Men Bible features the highly readable, highly reliable text of the Christian Standard Bible® (CSB). The CSB stays as literal as possible to the Bible's original meaning without sacrificing clarity, making it easier to engage with Scripture's life-transforming message and to share it with others.
About the Author
Translated by more than 100 scholars from 17 denominations, the Christian Standard Bible fulfills its mission of being as literal as possible to the most reliable manuscripts without compromising readability. This optimal blend of fidelity and clarity means the CSB is reliable for serious study, but is also rendered in engaging, sharable language that stirs hearts, drives understanding, and changes lives. The CSB is where original meaning is discovered, heart connection is made, and lifelong inspiration begins.