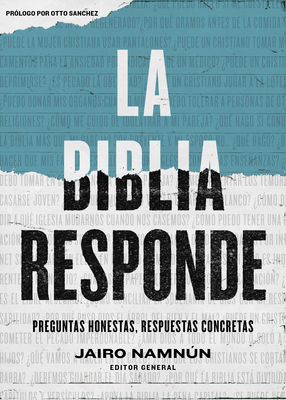 La Biblia responde
Preguntas honestas, respuestas concretas
Paperback

* Individual store prices may vary.
Description
Cuando conocemos a Cristo, nuestra vida completa es transformada. También nos cambia nuestra forma de ver la vida. De pronto nos encontramos con cosas que antes dábamos por sentado, y ahora sabemos que no son correctas. Y que algunas cosas que pensábamos no eran para nosotros son parte de una nueva vida en Jesús. En el centro de eso está un Libro antiguo y relevante que, si bien tiene un mensaje central muy claro, también está lleno de detalles y de historias que no son fáciles de comprender.

El propósito de este libro es proveer de respuestas a muchas de las preguntas más comunes en la iglesia del mundo hispano. Estas no son todas las preguntas, ni tampoco son las respuestas definitivas. Lo que queremos es responder de una manera concisa y resumida, mostrando cómo podemos ir a la Biblia y al evangelio para dar sentido a nuestras vidas. Y ese es el propósito: que podamos llevar a Jesús todas nuestras interrogantes, y escuchar Su voz en Su Palabra. 


?When we come to know Christ, our lives are completely transformed. Our way of viewing life changes, as well. We all of a sudden encounter things we thought were a certain way, and now we know that way was incorrect. And other things we used to believe weren't meant for us are actually part of a new life in Jesus. In the center of all this, there is an ancient and relevant Book that has a very clear central message, filled with details and stories that are not so easy to comprehend. 

The purpose of this book is to provide answers to many of the most common questions of the Church in the Hispanic world. These are not all the questions, nor are they the definitive answers. What we want to do is respond in a concise and summarized manner, demonstrating how we can go to the Bible and the Gospel to make sense of our lives. And that is the purpose: that we may bring all our inquiries to Jesus, and listen to His voice through His Word. 
B&H Español, 9781535906784, 240pp.
Publication Date: August 15, 2018
About the Author
Jairo se desempeña como Director editorial para Coalición por el Evangelio y está encargado de idear y supervisar el contenido del ministerio. Recientemente se reincorporó al personal de la Iglesia Bautista Internacional, en República Dominicana, donde sirve como líder de jóvenes, luego de completar su Maestría en Divinidad en el Southern Baptist Theological Seminary en Louisville, Kentucky. Está casado con Patricia.
 
Jairo serves as the Spanish Editorial Director for The Gospel Coalition and is tasked with ideating and supervising the ministry's content in that language. He recently rejoined the International Baptist Church in Santo Domingo, where he serves as a youth pastor, having completed his Masters of Theological Studies at the Southern Baptist Theological Seminary in Louisville, KY. He is married with Patricia.
or
Not Currently Available for Direct Purchase