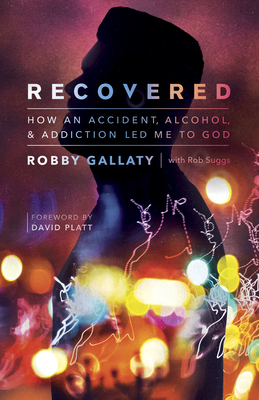 Recovered (Paperback)
How an Accident, Alcohol, and Addiction Led Me to God
B&H Books, 9781535909839, 272pp.
Publication Date: October 15, 2019
* Individual store prices may vary.
Description
Robby Gallaty is not who you think he is.
In
Recovered
, pastor and author Robby Gallaty tells the story of how God radically saved him from his addictions and called him into a life of discipleship.  
Robby grew up in a very religious Catholic family who attended church every Sunday and confession on Saturday if needed. Very rarely did he miss a Saturday night dinner and a movie with his parents and sister Lori. You can imagine how devastated they were when Robby stole $15,000 from them to fuel his drug addiction. Two years earlier, he was rear-ended on his way home from work by an 18-wheeler. Two herniated discs in his neck and back forced him to rely on pharmaceutical drugs to cope with the pain. Within three months, he transitioned to street drugs, heroine, and cocaine, after blowing through his thirty-day prescription in two weeks. Robbing his parents was the only option to prolong his drug habit.   
Shortly thereafter, Robby hit rock bottom. But God wasn't done with him. After a trip to rehab followed by a relapse and a second rehab visit, Robby surrendered his life to Christ, and nothing has ever been the same. This story—a story of salvation and new life—is for any reader who:  
wonders if God is done with them

has messed up time and time again

is battling drug or alcohol addiction or other destructive behaviors

has a loved one in the throes of addiction

needs to be reminded of the miraculous salvation found in the gospel

About the Author
Dr. David Platt
, President of the International Mission Board, is deeply devoted to Christ and His Word. David's first love in ministry is making disciples, sharing, showing, and teaching God's Word in everyday life. He has traveled extensively to serve alongside church leaders throughout the United States and around the world. 
A life-long learner, David has earned two undergraduate and three advanced degrees.  He holds a Bachelor of Arts (B.A.) and Bachelor of Arts in Journalism (A.B.J.) from the University of Georgia, and a Master of Divinity (M.Div.), Master of Theology (Th.M) and Doctor of Philosophy (Ph.D) from New Orleans Baptist Theological Seminary.  He previously served at New Orleans Baptist Theological Seminary as Dean of Chapel and Assistant Professor of Expository Preaching and Apologetics, Staff Evangelist at Edgewater Baptist Church in New Orleans, and eight years as the Senior Pastor of The Church at Brook Hills in Birmingham, AL. David has written several books,
Radical
,
Radical Together
,
Follow Me
and most recently
Counter Culture
(to be released February 2015)
.
He also has a radio program on Moody Radio,
Radical with David Platt
, that can be heard around the world and features past sermons and teaching from David's ministry.
David founded
Radical
(Radical.net), a ministry devoted to serving churches and disseminating disciple-making resources toward the end that the gospel might be made known in all nations.
David and his wife Heather have four children, Caleb, Joshua, Mara Ruth, and Isaiah.