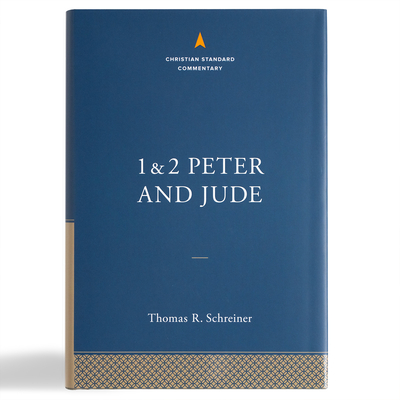 1-2 Peter and Jude
The Christian Standard Commentary
Hardcover

* Individual store prices may vary.
Other Editions of This Title:
Hardcover (9/1/2003)
Description
1-2 Peter and Jude is part of The Christian Standard Commentary (CSC) series. This commentary series focuses on the theological and exegetical concerns of each biblical book, while paying careful attention to balancing rigorous scholarship with practical application.
This series helps the reader understand each biblical book's theology, its place in the broader narrative of Scripture, and its importance for the church today. Drawing on the wisdom and skills of dozens of evangelical authors, the CSC is a tool for enhancing and supporting the life of the church.
Holman Bible Publishers, 9781535928076, 350pp.
Publication Date: November 1, 2020
About the Author
Thomas R. Schreiner is the James Harrison Professor of New Testament Interpretation at The Southern Baptist Theological Seminary in Louisville, Kentucky. He has also taught New Testament at Azusa Pacific University and Bethel Theological Seminary. He received a B.S. from Western Oregon University, a M.Div. and Th.M. from Western Conservative Baptist Seminary, and a Ph.D. in New Testament from Fuller Theological Seminary. He has published a number of articles and book reviews in scholarly journals. His published books include: Interpreting the Pauline Epistles, The Law and Its Fulfillment: A Pauline Theology of Law; Romans; Women in the Church: A Fresh Analysis of 1 Timothy 2:9-15, co-edited with H. S. Baldwin and A. Kostenberger; Still Sovereign: Contemporary Perspectives on Election, Foreknowledge, and Grace, co-edited with B. A. Ware; The Race Set Before Us: A Biblical Theology of Perseverance and Assurance, co-authored with Ardel Caneday, Paul, Apostle of God's Glory in Christ: A Pauline Theology; New Testament Theology: Magnifying God in Christ. He is also the preaching pastor of Clifton Baptist Church in Louisville, Kentucky. He is married to Diane Elaine and they have four children: Daniel, Patrick, John, and Anna.