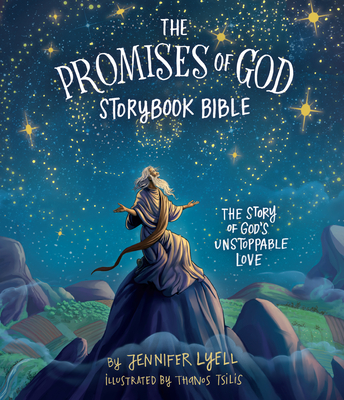 The Promises of God Storybook Bible (Hardcover)
B&H Kids, 9781535928328, 320pp.
Publication Date: October 1, 2019
* Individual store prices may vary.
Description
God's love is unstoppable. And that's a promise.
Noah's ark. Joseph's dreams. Jesus's miracles. The Bible is rich with stories for our children to hear and enjoy, but when those stories uncover the thread of God's promises, our children learn much more than individual Bible stories. They discover how God has demonstrated His love for us, from the first promise in the garden to the promise of the new heavens and earth.
A conversational, whimsical, biblically faithful retelling of more than fifty key Bible stories, The Promises of God Storybook Bible lets your child hear favorite stories with new ears, repeatedly assuring them that each word is proof of God's unstoppable love and unbreakable promises to His people.
About the Author
Jennifer Lyell has taught hundreds of children the Bible over the course of many years and finds her joy in those end-of-the-year Sunday School classes when the children teach it back to her. Granted, teaching kiddos might be her passion, but it's not her day job. For that she serves as Director of Book Publishing and Merchandising at LifeWay Christian Resources. The hundreds of titles that the books business team has acquired, developed, or managed under Jennifer's leadership include more than a dozen New York Times bestsellers, as well as multiple Christianity Today Book of the Year winners. Jennifer is an often off-the-path hiker who is happiest when adventuring (just like a child!).