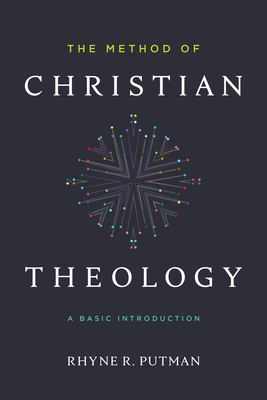 The Method of Christian Theology
A Basic Introduction
Paperback

* Individual store prices may vary.
Description
When handling the things of God, our method matters.
 
Everyone who thinks about God has a method for approaching the subject, whether they recognize it or not. A theological method addresses foundational questions such as: What is theology? How should we approach Scripture? What is the role of tradition, philosophy, and experience? How do we use theology in ministering to others? These questions are vital for anyone studying God and his Word—how one defines theology, sees its task, and uses its sources will shape one's doctrine, for better or worse.
 
In The Method of Christian Theology, Rhyne Putman guides readers through the essential "first words" of systematic theology. Written for entry-level theology students, this book provides clear guidance for using theological sources, reasoning through difficult questions, and applying theological reflection in paper writing and preaching. By studying the foundations of theology, readers will be better equipped to serve God's people in whatever ministry they are called to.

 
Praise For The Method of Christian Theology: A Basic Introduction…
"Proper theological method is essential to sound doctrine, and in The Method of Christian Theology: A Basic Introduction Rhyne Putman shows us why and how this is the case. I heartily recommend this book for those who desire greater theological awareness and formation, and for those who want the church to know and enjoy the same."
—Jason K. Allen, president, Midwestern Baptist Theological Seminary
 
"Simply stated, The Method of Christian Theology is a splendid book. Rhyne Putman, one of the truly outstanding young evangelical theologians of our day, has given us a masterful introduction to the task of doing theology for the church. Blending head and heart, this engaging and illuminating volume provides guidance, clarity, and insight for pastors, students, and all who are interested in the work of Christian theology. It is a genuine delight to recommend this excellent work, which should be essential reading for ministerial students and seminarians across the country."
—David S. Dockery, president, International Alliance for Christian Education, and distinguished professor of theology, Southwestern Baptist Theological Seminary
 
"In The Method of Christian Theology, Rhyne Putman has provided the church with an accessible, user-friendly introduction to one of theology's perennial questions: what is the best way to study and articulate Christian doctrine? Rather than some dry discussion of ethereal issues, though, this book engages the heart, soul, and hands as well as the mind as Putman seeks to form Christlike theologians through their systematic handling of God's Word. This book should be used in any classroom or church setting in which the topic of conversation centers on theological method. I cannot recommend it highly enough."
—Matthew Y. Emerson, professor of religion and dean, Hobbs College of Theology and Ministry, Oklahoma Baptist University
 
"Far too often, theological method is treated as little more than the preliminary material at the beginning of a systematic theology textbook. But the 'how' of theology is closely related to the 'what' of theology—to the glory of the 'Who' of theology. Rhyne Putman has written a great introduction to theological method that understands that theologians are worshipers and that theology rightly understood is as doxological as much as it is academic. The Method of Christian Theology will be an essential resource for theology students and a challenging-but-edifying refresher for pastors and other ministry leaders. Highly recommended."
—Nathan A. Finn, provost and dean of the university faculty, North Greenville University
 
"Putman provides an important introduction to a wide array of often neglected areas in theological method, highlighting the necessary academic depth and grounding, while also exploring a wide array of topics. He also identifies potential pitfalls, providing prudent advice for readers concerning various available methods. The overall goal is a balanced approach that speaks to issues of both the head and the heart. While introducing the essentials, the book is easily readable. Highly recommended."
—Gary R. Habermas, distinguished research professor of apologetics and philosophy, Liberty University
 
"When I think of Rhyne Putman, what comes to mind is a trusted scholar who can speak deep truths to regular people. There seems to be a large gap in the theological reading realm between popular level books, and those books only read and understood by trained theologians. Dr. Putman is able to speak to both ends of the spectrum, providing a middle level approach that is so greatly missing. Pastors, seminary students, and church members desiring to take a deeper step into theological reading, will all benefit from this book."
—Dean Inserra, lead pastor, City Church, Tallahassee, FL

"A homeowner does not get excited by talking about the foundation of a house; neither does a Christian by talking about theological method. But both are vital, and to get them wrong could prove disastrous. As a reliable and tested guide, Rhyne Putman has given a clear and enjoyable introduction to theological method that is grounded in Scripture, attuned to the Christian tradition, aware of contemporary issues, and geared toward the church in order to help Christians faithfully know their blessed God and proclaim his glorious gospel. I highly recommend this work for church leaders, students, and all Christians who desire to think rightly of their Triune God and all things in relation to him."
—Oren Martin, assistant professor of Christian theology, The Southern Baptist Theological Seminary and Boyce College
 
"Evangelical Christians have neglected theological method for generations—and that is a harmful neglect. Rhyne Putman offers a serious consideration of theological method that will make a lasting mark in evangelical theology. This is a major contribution to theological discussion."
—R. Albert Mohler Jr., president, The Southern Baptist Theological Seminary
 
"Rhyne Putman is to be commended for this faithful guide to theological method. It is wisely conceived, crisply written, clearly organized, and judiciously presented. Students will find it to be a helpful, thoughtful, and enjoyable textbook."
—Christopher W. Morgan, dean and professor of theology, California Baptist University
 
"Dr. Putman has contributed to discussions about theological method at a high level. He now uses his expertise in this field to provide pastors and students with a sophisticated but accessible introduction to the conversation. I especially like how he emphasizes that theologians must develop their minds and their hearts. Readers will find this text academically helpful and spiritually edifying."
—David Rathel, associate professor of Christian theology, Gateway Seminary
 
"Faithful theological method is God-centered: it takes the Bible seriously as the revelation of the triune God, reflects on God's work throughout church history, and is sensitive to God's continued work in the world. Rhyne Putman lays out such a method in a way that helpfully contributes to both the academy and the church."
—Brandon D. Smith, assistant professor of theology and New Testament, Cedarville University, and editorial director, Center for Baptist Renewal
 
"Ethicist Jeffrey Stout once complained that preoccupation with method is like clearing your throat: 'it can go on for only so long before you lose your audience.' But Rhyne Putman understands that to speak of theological method is already to be engaged in the task of theology itself. As such, he never risks losing his audience. Instead, Putman distills his broad knowledge of theology, exegesis, tradition, and philosophy into a readable, and most crucially, usable manual on how to do theology. This volume will now be my go-to textbook on theological prolegomena."
—R. Lucas Stamps, associate professor of Christian studies, Anderson University
 
"'Show me the way to go home.' Rhyne Putman probably didn't have the lyrics to this song in mind when he was writing this book, but he could have. A method is a way of doing something, and his book provides everything newcomers to Christian theology need to embark on their way home—back to God, for whom our hearts are restless until they find rest in him. It also provides precious practical help along the way—the preparation, procedures, and practices pilgrims and disciples need for understanding, formulating, contextualizing, and even preaching doctrine. Anyone interested in interpreting Scripture for knowing God will benefit from the clear signage Putman provides along the way. 
—Kevin J. Vanhoozer, research professor of systematic theology, Trinity Evangelical Divinity School
 
"Rhyne Putman deals directly with what is often neglected in the doing of theology. He recognizes that what one thinks about the nature of theology and how one is prepared for the task determines how one does theology. This book calls us to envision theology as disciple-making. Putman knows that how one conceives of God and his work in the world will determine how they themselves live in the world. It is for this very reason that he says Christian theologians must have both the right heart and head in order to be good theologians. And Putman embodies both throughout the book. Complex ideas and skillful conclusions are drawn with engaging instruction and pedagogical virtues to equip the student for situating, articulating, and proclaiming their theological convictions. The Method of Christian Theology is excellently written for the beginning theological student."
—Keith S. Whitfield, provost, Southeastern Baptist Theological Seminary
 
 "A Christian can either steer straight or drive woefully astray, immediately and for life, depending on his or her method of thinking about God. Addressing this seminal crisis, Rhyne Putman makes accessible to novice theologians the high purpose and proper method for a Christian disciple's theology. Putman is among the keenest, most judicious, and engaging writers today, and every professor would do well to require The Method of Christian Theology as a primary text. While once helping introduce theological method to evangelicals, I now heartily commend this more accessible volume."
—Malcolm B. Yarnell III, research professor of theology, Southwestern Baptist Theological Seminary
 
 
 
 
 
 
B&H Academic, 9781535933339, 336pp.
Publication Date: May 15, 2021
About the Author
Rhyne R. Putman (PhD, New Orleans Baptist Theological Seminary) is associate vice president for academic affairs, director of worldview formation, and professor of Christian ministries at Williams Baptist University, as well as associate professor of theology and culture at New Orleans Baptist Theological Seminary.