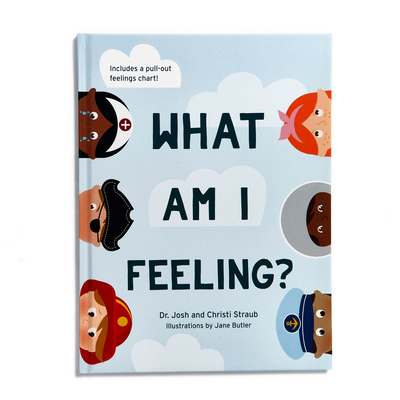 What Am I Feeling? (Hardcover)
B&H Kids, 9781535938181, 32pp.
Publication Date: March 1, 2019
* Individual store prices may vary.
Description
Can show-and-tell day be saved?
It's show-and-tell day at school, and Sam and his friends are feeling lots of emotions. He wonders why he feels flippy in his tummy. And why is Alex stomping his feet? And does Hudson usually have such a big grin?
After several unchecked feelings threaten to ruin the big day, Sam and his friends start to learn how to give each emotion a name and ask God to help them remember that "a feeling is just a feeling—it's not in charge of you." In a world where kids are dealing with everything from sibling rivalry to bullying, divorce to tragedy, What Am I Feeling? offers a biblically grounded way for children to verbalize their feelings, develop empathy and self-control, and understand their wonderful God-given emotions.
BONUS!
Also includes a pull-out feelings chart for your wall!   
Go to bhkids.com to find this book's Parent Connection, an easy tool to help moms and dads (or anyone else who loves kids) discuss the book's message with their child. We're all about connecting parents and kids to each other and to God's Word.
About the Author
JOSH and CHRISTI STRAUB are speakers, authors, and marriage and family coaches. Co-hosts of the In This Together podcast, they also lead an online community of parents called TwentyTwoSix Parenting. Josh (PhD) is a professor of child psychology and the author of Safe House: How Emotional Safety Is the Key to Raising Kids Who Live, Love, and Lead Well. Josh and Christi have two fun-loving kids, Landon and Kennedy, and a feisty puppy named Copper.